Fashion today is all about breaking away from the conventional. Runways all over the world are brimming with new and exciting prints, ushering in the advent of fashion that's bold and uninhibited, but at the same time classy and aesthetic. If you're looking to reinvent your style this year, here are our picks of the top 5 prints that are worth sporting right now.
Botanical prints
Floral prints, plants, insects and butterflies — botanical prints have been lurking on the fringes in the past, but right now they take centre-stage. In earthy shades of beige, rust, green and brown, they're a good way to make a statement without attracting untoward attention.
Key pieces: Purchase a T-shirt or a bomber jacket to liven up everyday casual wear. When paired with complementary navy, maroon, beige or tan pieces, there's no way you can go wrong with botanical prints.
Landscape prints
Shots of deserts, mountains, icy lakes, lush hills and turquoise oceans are great to look at, but why stop there when you can wear them too. Versions of landscapes, often in more abstract forms, are a great way to channel statement prints this season.
Key pieces: Invest in vests and T-shirts you can layer with. Perfect for a sunny holiday, wear these shirts over shorts, chinos and jeans or layer them with linen button-downs.
Rorschach Test prints

Named after a test that is used to analyse a patient's state of mind, this print is reminiscent of abstract art that uses drops of ink or watercolours to create a mirror image by splattering drops on 1 half of a paper and then folding it.
Key pieces: A statement shirt that you can wear under casual suits or with a simple pair of
jeans
is what we're recommending. With toned-down accessories, it makes for an excellent focal point for the man who enjoys incorporating a hint of quirk.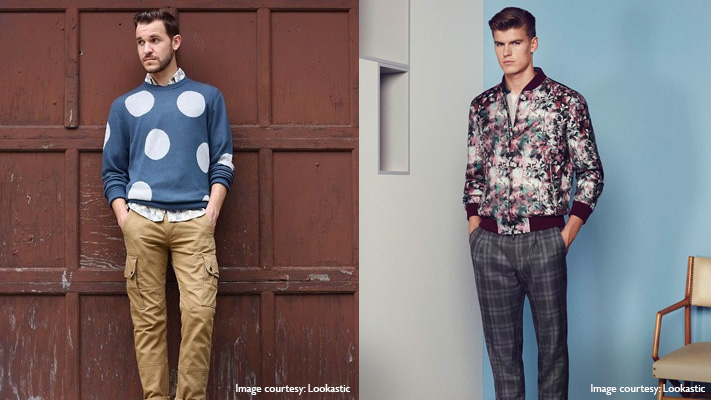 Similar Products
 Graphic prints
Prints and patterns of all scales and sizes are in trend and you can pick graphic prints in bold or muted colours, depending on what you fancy. Bright,
fluorescent colours
are in vogue, but if you aren't too sure about being able to pull them off, opt for understated colours and subtler tones.
Key pieces: Pick up anything from shirts, T-shirts and jackets to trousers and shorts. The only thing you need to remember while styling busy graphic prints is to keep all other aspects of styling fairly simple, unless you're entirely confident about mixing prints.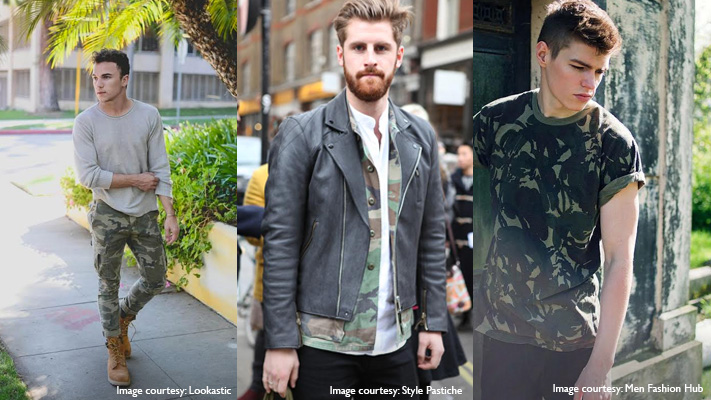 Military prints

Military prints are a timeless style statement and this year, they're making a comeback in a big way. Stick to a basic earthy colour palette or experiment by incorporating colours such as navy and grey.
Key pieces: Tailored casual cotton trousers and
camouflage
print sneakers are a great way to sport the trend. Pair them with pieces that are in colours that feature in the print itself.