A few weeks ago, I decided to splurge by treating myself to a very expensive haircut at one of those fancy international salons that have popped up across our cities. As I settled into the salon's leather-and-shiny-steel highchair, I began my 'discussion' with my senior stylist, who proceeded to tell me what he wanted to do with my hair.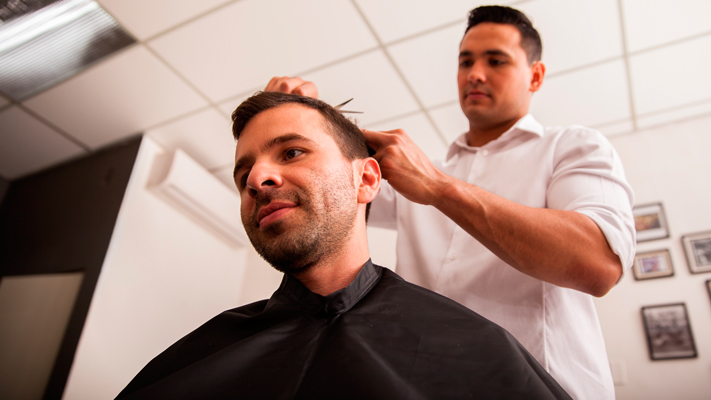 When it comes to my hair, I am extremely fuss-free. There is only one uncompromising brief that I always give my hairstylists: "I like it short,"and that's that. I want my haircuts to be clean, slick, neat and tidy. The stylist in question appeared to be snipping away at my hair. Please note, I say 'appeared'. He dabbed on some hair product and managed to make my hair look very well styled. I smiled, paid my dues and walked out of there. Unfortunately, the reality dawned on me only a few days later.
Regrettably, my fancy haircut lasted no more than five days, after which I began to see frizz and flyways, which should have been trimmed more mercilessly in the first place. My sideburns looked untidy and the back hairline began to touch the collar of my shirt. In hindsight, I realised that the stylist who appeared to be going at my hair with unparalleled fervour, was merely snipping off a few millimetres. As a result, the hair looks well styled and shaped when you walk out of the salon, but it doesn't last more than a few days. Could this be their clever little ruse to have people returning to them every couple of weeks? Well, that could be a whole new debate altogether. The lesson I learnt here was that I was not assertive or attentive enough with my stylist. I let myself be swayed by a fancy hairstyle created by fancy product, and I lost focus of my objective of getting short and neat hair. That brings me to the 'battle with the barber'…
I've noticed that these days, a lot of hair salons concentrate more on style and shape, and not always on wearability and longevity. What's the point of paying a hefty sum if your hair's going to look like a mess in a few days? For us guys, it is important for a haircut to last at least three weeks. At least that's my opinion.
So if ever you do decide to ditch the rickety wooden chair at your cheap (but trusted) neighbourhood barber for the Italian leather-upholstered highchair of a luxurious salon, please be fearless. Battle with your barber.  While it is always nice to let the expert do the talking and give you feedback and perspective, don't forget to keep your own personal preferences in mind as well. If it's absolutely short hair that you like, make it known. If unconvinced, do not hesitate to ask him to make your hair shorter. Your demands might be met with his grunts but let that not dissuade you. You are a customer after all, paying for a service, and you are certainly entitled to wear your hair exactly as you please. Never let the plush confines of a salon intimidate you. Never let the stylish ensemble of your stylist dissuade you. It's your hair and your right.
Till next time, know that the Grooming Guru is always on your side in the battle with your barber.
Written By : Riaan George, The Grooming Guru