Men with long hair give off a carefree, bohemian vibe and some carry it off really well like Jared Leto. The man has ombre ends for crying out loud! Leto has rocked the man bun, ponytail and even braids besides leaving it in loose, tousled waves. Make him your go-to for hair styling inspiration.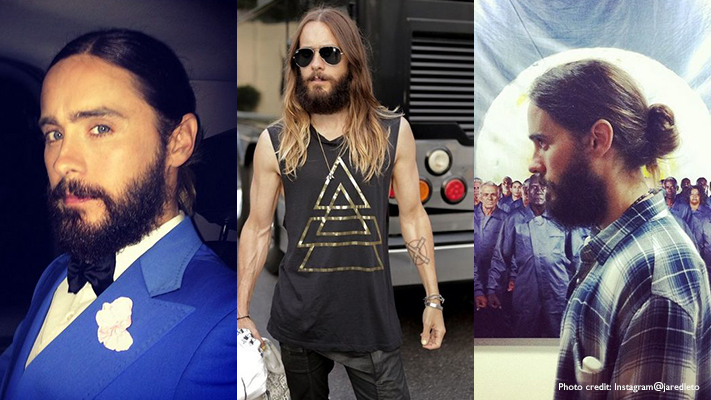 Braid

Yes! You read that right. If you have super long hair that goes beyond your shoulders, you might want to keep them from getting in the way while you are working. Tie them up in a neat loose braid like Leto himself! If there's anyone who can rock an ombre braid AND an off-white tuxedo, it has to be him.
Check out his pictures from the Golden Globes 2015
to know what we are talking about.
The Man Bun
Or the 'mun', maybe? The man bun is rather rad and a great way to look spiffy while keeping things in the casual realm. Now, you could either go for an understated low bun like Jared Leto or try an attention grabbing high bun like the one Jake Gyllenhaal sported while he was growing out his hair for Nightcrawler.
Ponytail
Whether you wear it low or high, loosely knotted or sleek and neatly tied, parted or without part, the ponytail is the easiest way to style your hair. The best part is you can customise this classic hairstyle to suit an occasion.
Undercut
The hairstyle of the moment, the undercut's popularity shows no sign of ebbing. Give it a shot for a radical change in style. Here's the deal, you get to keep your length and still get to sport a completely new look merely by shaving one side of your scalp. Undercuts are beyond cool. We say go for it now!
Written By : Bushra S Khan