Men's skin care is not some unfathomable complex science. The biggest problem plaguing men is ignorance. You have no idea what your skin type is, you randomly pick up or borrow products, you go out in the sun without any sun protection, smoke, are sleep-deprived, use abrasive products, wipe and rub your skin harshly…the list of misdemeanours towards your skin is endless. Read the following tips to understand and take care of your skin: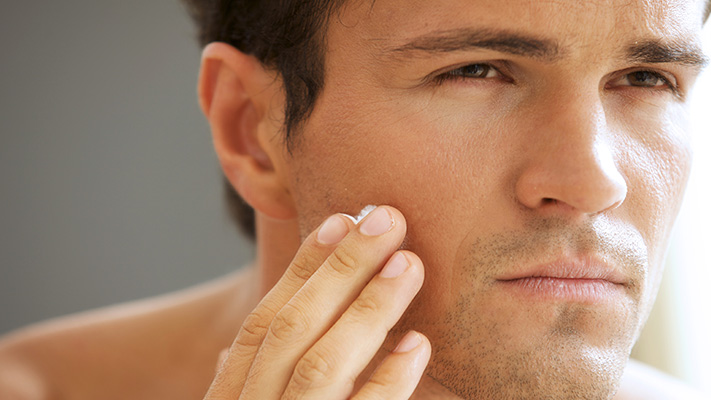 Oily Skin

Look out for: Blackheads, oversized, open pores, frequent breakouts. You find your face glistening barely half an hour after you washed it. You see your fingers and palm shining after you have just wiped your face with your bare hands.
The product you will always need: Facial cleanser

Plan of action: You need to pick your facial cleanser with care. You need a face wash that has salicylic acid or anti-bacterial components that will deeply cleanse pores and prevent clogging leading to blackhead and breakouts. And remember, something that foams a lot or leaves your skin feeling dry and stretched is not good. Shaving gel scores over shaving cream and an astringent after-shave lotion after shaving is a must to close open pores. Also, despite having oily skin you will need a light-weight moisturiser for the day and a heavier one for the night. Look out for oil-free, non-comedogenic, gel-formula products.

Dry Skin

Look out for: Fine lines, dry patches, redness, itchy, irritated skin that tends to flake. Your skin always feels uncomfortably stretchy and tight when you talk or smile and feels even worse after you have washed it. You have dry patches that itch and feel red and sore.
The product you will always need: Moisturiser

Plan of action: First of all, avoid long showers and very hot water showers. Secondly, stop using soap on your face and face washes that lather. Use a gentle, mild face wash. Use a shaving cream with aloe to soothe your skin. Make sure you slather on a heavy-duty moisturiser after every wash. Despite having dry skin you will need to exfoliate once a week to avoid products clogging up your pores. However, use mild, non-abrasive exfoliants like a walnut exfoliator. Dry skin ages faster than other skin types, so make sure you put on sunscreen before going outdoors. Dry skin is parched skin that is literally screaming out for hydration.

Combination Skin

Look out for: Your forehead, nose and chin are almost always shiny and yet your cheeks feel dry and stretchy. What you have is called an oily T-zone!
The product you will always need: Exfoliator
Plan of action:
You will have to load up
skin care products
that are mix bag of both oily and dry skin specific. You will need to moisturise your cheeks or the drier parts of your face a lot more than the T-zone. Now this doesn't mean you use two different moisturisers. That could be too much work. Just apply more moisturiser to your cheeks and moisturise your forehead, nose and chin with a lighter hand. Similarly, exfoliate your cheeks with a  lighter hand than you would exfoliate the T-zone. Shave using a shaving cream that has aloe extracts since your cheeks are drier and could feel sore after a shave. The skin around your eyes too could feel dry so invest in an under-eye gel product to hydrate that area.
Normal Skin

Look out for: Normal healthy skin that is mostly well-behaved. You have the occasional zit or sunburn but it's mostly manageable.
The product you will always need: Sunscreen
Plan of action: You are probably the most blessed and your skin regime is pretty basic. Cleansing, exfoliating, moisturising and sun protection should sum it up. Use a face wash to remove dirt and grime from clogging your pores. Use an exfoliator to fluff away dead skin cells and keep your skin hydrated with a good moisturiser that is suited to your skin. Keep your skin hydrated, get enough sleep, protect your skin against extremities and you will be fine.
Written By : Bushra S Khan