Does the deluge of hair products lining shopping aisles make you want to pull your hair out? Don't get flustered because The Label helps you pick one according to your hair type and haircut and depending on the look you are aiming at!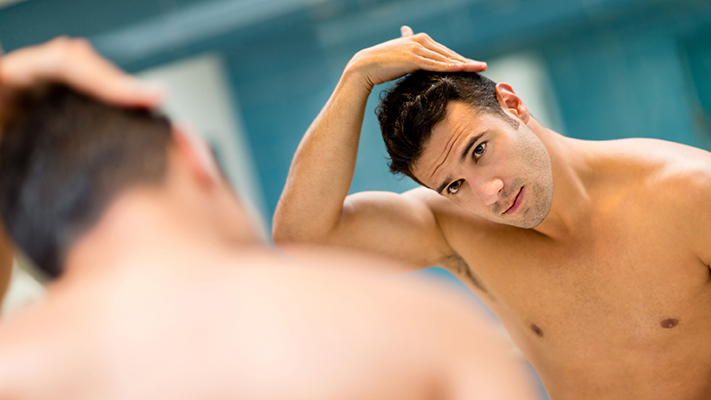 Pomades
Pomades = Pompadour. You might have come across this product while trying to style your hair into a pompadour. Pomades provide adequate hold and shine required to style the pompadour, quiff and ducktail and are best suited for medium to long length. Pomades are either petroleum-based or water-based. Petroleum-based pomades are made with real grease and fatty ingredients and are harder to wash out than water-based pomades. Water-based pomades are more modern as well as being better for your scalp. Pomades provide excellent hold along with giving a glossy finish. Besides they don't harden or dry out your hair like hair gels do.
Gels
Gels are thinner in consistency than both pomades and waxes but can be called lightweight or heavyweight depending on the hold they offer.  Gels give off the wet, shiny look and make hair hard and stiff. It is easily washable but is known to cause damage if used over a longer period of time. Men with thinning hair should not use lightweight gels. Heavyweight/high hold gels should be used by men with thicker hair or curly/wavy texture.
Clay
Have truant, porcupine hair that refuses to be tamed into any style whatsoever? Then clay is for you. Call it clay, wax, paste or fiber, this one's the strongest pliable product. It has a thicker consistency, but won't harden hair like gel does. Most waxes/clays give off a matte look adding little to no shine making it ideal for people aiming for a messy, dry, out-of-the-bed look. Since it is quite hard, you will have to use blow your hair dryer on the clay to make it pliable for use. It is also a great way to add volume if you have thin, sparse hair.
Creams
The primary function of creams or serums is to make hair manageable, smooth and to control frizz. They offer little to no hold and add a little shine to hair. It's great to add texture to messy looks without tangling them, weighing them down or damaging them. They are hair nourishers.
Written By : Bushra S Khan