It's that time of the year again and the rains are ready to make an appearance, welcoming cooler weather and, unfortunately, an array of hair issues along with it. Men, across India, face this season with programmed nonchalance. However, this year, say 'no' to seasonal scalp issues and look good while you do it!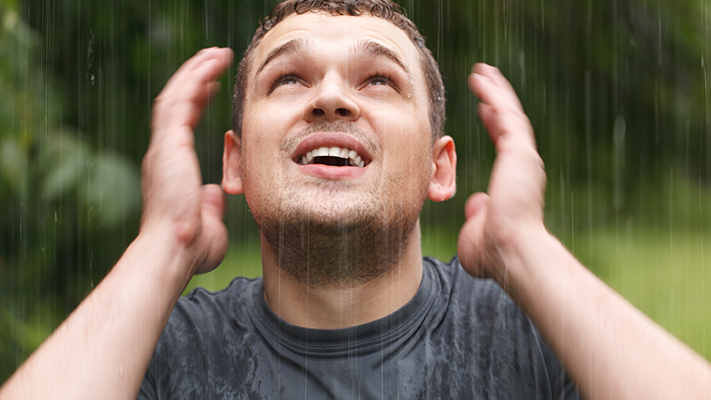 Your shampoo matters
There are some men who put in a lot of research before they purchase an electronic product or a car. However, shampoo? Not so much! Yes, the in same way that men have come around to agreeing that using face-wash is an important part of daily personal care, the kind of shampoo you use determines how well your scalp will fare with constantly changing weather conditions. A two-in-one shampoo and conditioner, with light anti-dandruff components, is best for saving time and money. Premium personal care brands, even mainstream retail, across India, are opening their doors to hygiene products made of more natural ingredients rather than glycerine and soap bases, such as neem, which has anti-bacterial qualities, gooseberry (amla) adds a natural shine and has been used for many centuries for its rejuvenating qualities, and mint, which cools and alleviates itchy scalp. As unappealing as it may sound, some other shampoos you may want to look into should be those that contain fruit extracts such as citrus for a squeaky clean scalp; coconut milk extract for a less odious and rinse-able alternative to hair oil, which may cause odour with rising humidity; banana or even yoghurt for volume, in case your hair tends to fall flat with the rain. Even if you have short hair, shampoos clean your scalp without damaging the balance of natural oils secreted by hair follicles.
Post-wash care
Avoid hair dryers, at any cost, when styling your hair during the monsoons. We would suggest staying away from or completely doing away with even a small amount of hair product if you are used to applying any on a regular basis. For those with curly or wavy hair, try a leave-in conditioner instead of gel or cream. If you're heading out for the night, try using a hair moulder with natural beeswax or aloe vera to keep your hair standing tall, while conditioning and waterproofing it as well.
Avoid hats
Many men tend to like wearing baseball caps or fedoras and bandanas during the monsoons to keep rainwater out of their eyes. Make a commitment to yourself that you won't do that this year. As easy as throwing on a hat is, moisture build-up and constantly covering your scalp invites a range of bacteria and scalp infections, which have short-term effects such as rashes and acne and long-lasting effects such as balding, premature hair fall, scalp warts and perpetual dandruff.
Do not comb wet hair
Whether your hair is long or short, running a brush or a comb through it daily, massages the scalp and improves blood circulation. However, wet hair is weak and susceptible to breaking. Gently air-dry hair and comb it after your hair is completely dry. Again, avoid using heated hair equipment, which could make your hair even more dry and rough during the monsoons.
Drink plenty of water
It may sound like an old wives' tale, but drinking at least eight to twelve glasses of water a day is a guaranteed way to prevent hair loss during the monsoons. Drinking water helps rid the body of its toxins along with fungal infections, which may aggravate hair loss problems. Instead of giving in to caffeine pangs, ensure that you drink enough filtered water devoid of bacteria, lead or chlorine and try to add sprouts to your diet for exceptionally healthy hair.
Written By : Srijeeta Mitra