With phones, computers and watches becoming "smarter" by the day, there is no reason why grooming gadgets shouldn't get a technological makeover too. Whether you're looking for a quick dental fix or a neat stubble trim, these gadgets will make your grooming routine a whole lot easier.
Wahl Lithium Ion Shaver
Facial hair trimmers have been around for a while, but if you need one to take care of all your needs, the Lithium Ion Shaver from Wahl is your best bet. As the name suggests, the lithium ion battery keeps the gizmo lightweight and charged for a running time of up to 45 uses. The shaver comes with 4 trimmers, including a beard trimmer and a precision detailer for ear, nose and brow hair, while the Flex & Float technology affords a close shave by conforming to the contours of your face.
Price: ₹6,350 (approx); available at www.indiangiftsportal.com
BaByliss Pro Italia Brava Dryer
Yes, we're sure you're in possession of a hair dryer already, but with the Italia Brava Dryer from Babyliss, you can dry and style your hair in mere seconds. Also, did we mention that the turbo motor of this hairdryer has been designed in conjunction with Ferrari? How's that for extra horsepower! The high heat settings ensure less frizz and more volume, while the 'Cool shot' button is perfect to set short styles in seconds.
Price: ₹12,436 (approx); available at www.amazon.com
Philips Sonicare DiamondClean Rechargeable Electric Toothbrush
Electric toothbrushes are no longer a novelty, but this one from the house of Philips truly impresses with its patented Sonic technology that offers better care and protection against dental problems. The sleek toothbrush comes with 5 cleaning modes that offer customised dental care ranging from whitening to plaque removal to a quick buff before you step out. With multiple charging options like plug-in glass as well as a USB charging travel case, it's almost like a dentist on the go!
Price: ₹22,990 (approx); available at www.amazon.in
Braun Cruzer 6 Body Groomer
Considering the fact that manscaping is no longer just a passing fad, this body groomer from Braun is like your very own portable salon. The shower-proof gadget comes with a power trimmer that adjusts to the contours of your body, while the 3 trimming combs of 0, 3 and 8 mm offer a neat trim regardless of the thickness of the hair. The Gillette Fusion blade technology comes handy if you're looking to go completely clean, keeping rashes and injuries at bay.
Price: ₹5,650 (approx); available at www.flipkart.com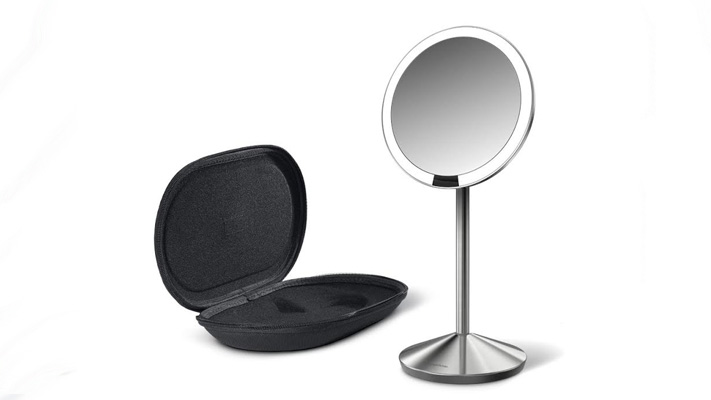 Sensor Mirror from Simplehuman
This smart mirror could be straight out of a fantasy tale; apart from lighting up automatically when you bring your face near it, it also comes with an in-built 'tru-lux' LED light that simulates natural sunlight for a colour-corrected reflection of sorts. While the 10X magnification facilitates a closer shave, the USB-charger and compact design makes it travel-friendly.
Price: ₹12,930 (approx); available at www.amazon.com
Written By : Neehar Mishra