There's a cufflink for every occasion. From the ridiculously expensive to the downright affordable ones, from the arty ones with fine designs to the whimsical, cartoon designs, it's akin to wearing your personality on your sleeves. They are a great conversation starter, so choose one with care. Here are a few basic styles of cufflinks to pick from: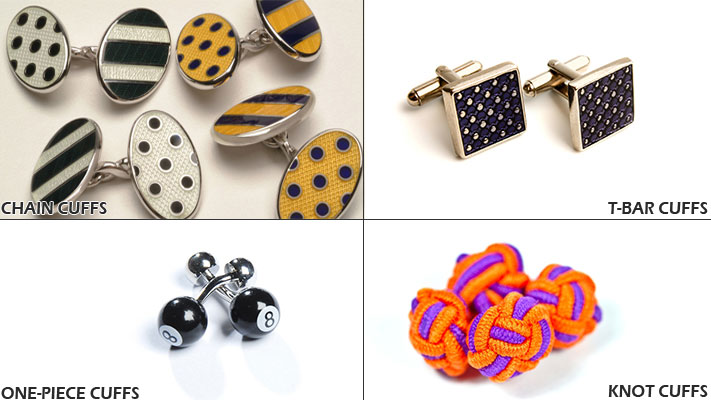 T-Bar or Hinge-back
The most common and easiest to use, these cufflinks are T-shaped with a decorative end mounted perpendicularly on a bar that you put through the buttonholes. The bar has a swivel on the other end that hinges 90 degrees to keep the cufflink in place.
One-Piece or push-through
The classiest of all cufflinks, the one-piece is self-explanatory. They have one decorative side made of solid metal, while the other side is a rigid ball or a 'T' that is to be inserted into the cuff to stop it from slipping out of the buttonholes.
Shackle or chain

Shackle cuff links have a chain that connects the two decorative ends. Each side of the cuff has an ornamental end. These cuff links do not hold the cuff as tightly together as other
cufflinks
do but that should not be a problem.
Knots
These are the most affordable cufflinks and the simplest of all. They are made out of cloth woven into a knot. They are more suited for casual wear and add colour to your outfit.
Written By : Bushra S Khan