Meant for only formal events like weddings, balls, formal ceremonies and black-tie events, the tuxedo is as formal as men's ensembles can get. It also has a formidable reputation since innovating and experimenting is generally frowned upon. But this also means that once you get your basics right, there is no chance of blowing it up. The Label gives you a lowdown on getting your tuxedo and black tie basics right.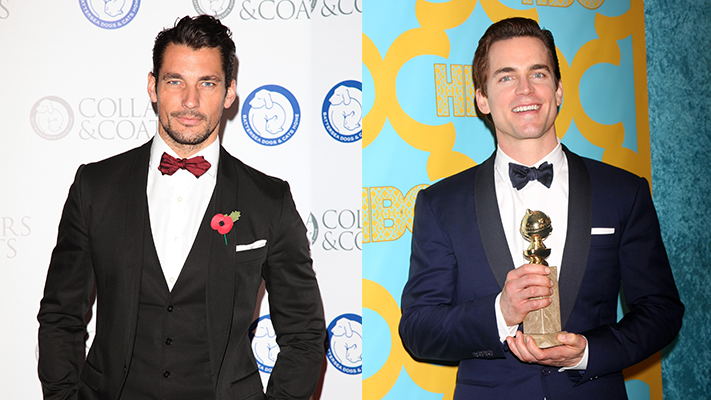 Style
Tuxedos are either single or double-breasted just like suits. However, single-breasted tuxedos have only one button unlike single-breasted suits. These are best suited for shorter, stockier men since it creates an illusion of a longer silhouette. If you are opting for a double-breasted tuxedo though, stick to the classic 6 x 2 button stance, meaning the jacket has six buttons, on the front, of which two are actually functional.
Formal events and black-tie affairs call for a peak lapel although you can also opt for the more contemporary shawl collar. Notched lapels and tuxedos do not go well together at all. Satin or grosgrain are your go-to materials for tuxedo lapels. Both satin and grosgrain are made from silk but have a different visual effect. While satin has a smooth, flat finish, grosgrain has a ribbed, raised finish that adds texture to your lapel. Tuxedo buttons are always covered in the same fabric that the lapel is made of.
Whether you pick a single or double vent (open slits at the bottom of the back of the jacket) or ventless jacket depends on your personal preference. However, tuxedo pockets should be jetted (also known as welted or piped pockets). The flap pockets as seen in suits cannot do in tuxedos. Tuxedos must have a clean, sleek look with minimal distractions.
Colour
Although black is the standard colour for tuxedos, one can never go wrong with midnight blue. It's the perfect balance between black which can come across as too severe and navy which can come across as more boardroom than ballroom.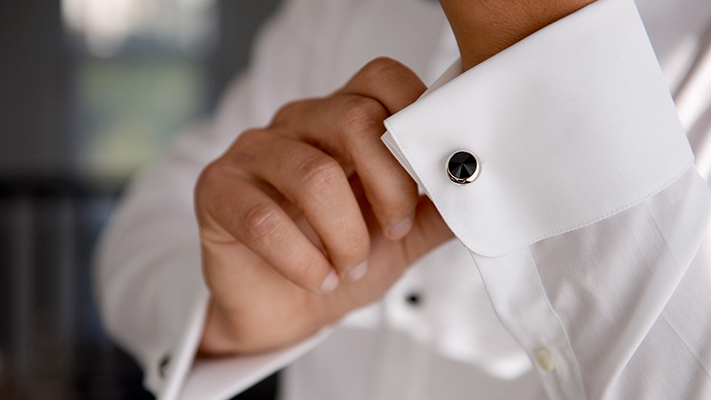 Shirts

Turndown or short wing collars, French cuffs and studs in place of buttons, these are the basics of a formal dress shirt for tuxedos. French cuffs mean you must wear appropriate cufflinks. Choose quality and understated style over
flashy quirky cufflinks
. Gold, silver, platinum, onyx, diamonds and mother of pearl go best with tuxedos. Shirt front buttons just do not cut it; they must be replaced with studs and these must match your cufflinks in material and colour. Studs and cufflinks are available in sets, so don't pull your hair out in exasperation just yet.
Vests and cummerbund
Vests and/or cummerbunds were worn to cover the waist. While they are optional, one must wear a vest or cummerbund to cover the waistband where awkward shirt bunching often occurs. They create a clean, sleek look.
Trousers

Tuxedo trousers are distinct from regular formal trousers by the satin or grosgrain stripe on the side of the legs and the absence of pleats and cuffs. The guiding principle while wearing a tuxedo is to cover up the working parts of your ensemble. Hence, studs and cufflinks in place of shirt buttons, vests or cummerbunds to cover up trouser waist and shirt bunching, and similarly, satin or grosgrain stripes to cover up the outer seams of trousers. Another distinguishing factor is suspender buttons and the lack of belt loops on the trousers. This is because belts don't allow a seamless effect. Use
suspenders
to keep your trousers up, if you must. And no leather braces, please!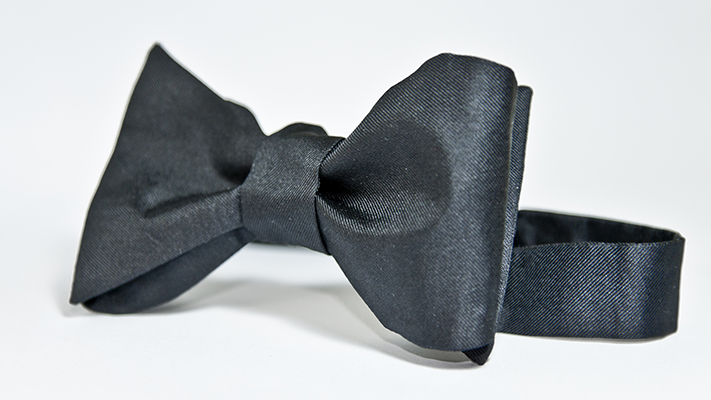 Bow Ties

A tie can NEVER replace a bow tie. Bow ties must be black and must be tied by you. None of those pre-tied options will work for a formal event. The fabric of your
bow tie
must match the fabric of your lapels. Thus, if your lapels are satin, so will be your bow tie.
Pocket Squares

Pocket squares
must be minimalist. Opt for the classic white or cream in linen, cotton or silk folded in the simple square fold.
Shoes
By now you must have a fair idea that with a tuxedo you are creating a clean, neat, streamlined effect on the silhouette. The same goes for your shoes. Formal dress shoes must be plain toe oxfords in leather or velvet and must be worn with black, over-the-calf socks.
In a nutshell:
Tuxedo lapels must be peaked or shawl collar.
No flap pocket on the jacket. Only welted/jetted/piped pockets will do.
The material of the lapel, the stripe on the trousers and the bow tie must match.
No belt loops on the waist of tuxedo trousers.
No cuffs and pleats on tuxedo trousers.
The studs on the shirt and cufflinks must match in colour and material.
Written By : Bushra S Khan