In July of 1969, two NASA astronauts became the first human beings to ever set foot on the surface of a celestial body. Much earlier than that, in 1492, an explorer discovered America. In the 1200s, Polynesian tribes settled in the islands of New Zealand, creating a community and a culture that inspired art in various ways over the next many centuries. And in more modern times, cities such as
New York
and
Paris
became the greatest cultural hubs in the world. The world as we know it, has been through several discoveries and a great deal of evolution and advancement. Inspired by all of the above and the journeys taken by the people involved, these timepieces capture the culture and creativity of mankind in more ways than one. Take this journey to discover how…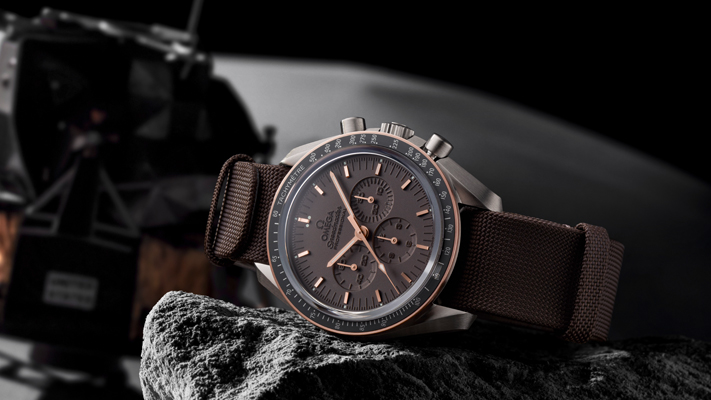 Omega Speedmaster Professional Apollo 11 45th Anniversary Limited Edition
When Neil Armstrong and Buzz Aldrin stepped off Apollo 11, onto the moon, they were both wearing Omega Speedmaster watches. This timepiece, marking the 45th anniversary of that massive accomplishment, borrows elements of the chronographs worn by the men on the moon, and draws inspiration from elements of the moon itself. Recalling the colours of the moon and the Apollo 11 lunar and command modules, the limited edition timepiece features a grey, completely brushed 42mm grade-2 titanium case, with a touch of gold. Produced using a special laser, the black PVD dial features unique markings of the counters and indexes. The 18-carat Omega Sedna gold bezel features a ceramic ring with a tachymeter.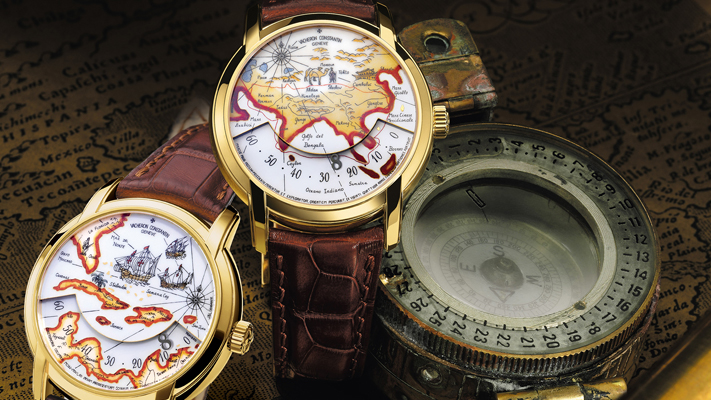 Vacheron Constantin Métiers d'Art Tribute to Great Explorers
This pair of timepieces is one of the most impressive set of watches that has come from
la maison de
Vacheron Constantin
. Paying tribute to two of the greatest explorers of all time—Christopher Columbus and Marco Polo—these watches feature 18-carat gold dials, on which grand feu enamelling work represents vintage maps of the regions discovered or traversed by the explorers. The Christopher Columbus version reflects his discovery of the West Indies in Central America, which led to the discovery of
America
itself. The Marco Polo watch, on the other hand, represents his journey through the centre of Asia. These watches come in 40mm, 18-carat yellow gold cases with brown crocodile leather straps.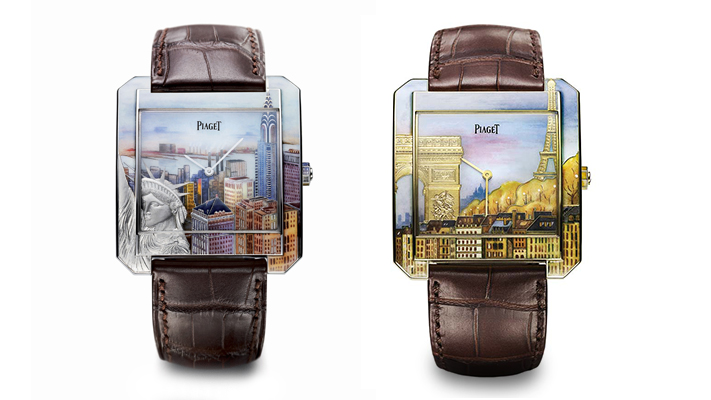 Piaget Protocole XXL in Enamel
Another pair of watches in enamel, this edition of the Piaget Protocole timepieces represents two of the greatest cities in the world. Realised through stunning enamel painting, in full colour, the representations of the cities extend beyond the dial, spilling onto the case, covering the entire face of the watch with iconic skylines and monuments. The New York
watch
features the Chrysler Building, and the Statue of Liberty. The latter was an independence gift to America from the French, and the second watch represents the French capital, Paris, with views of the Eiffel Tower and l'Arc de Triomphe. The sapphire crystal watch glass and the ultra-thin hands allow for an unobstructed view of the skylines.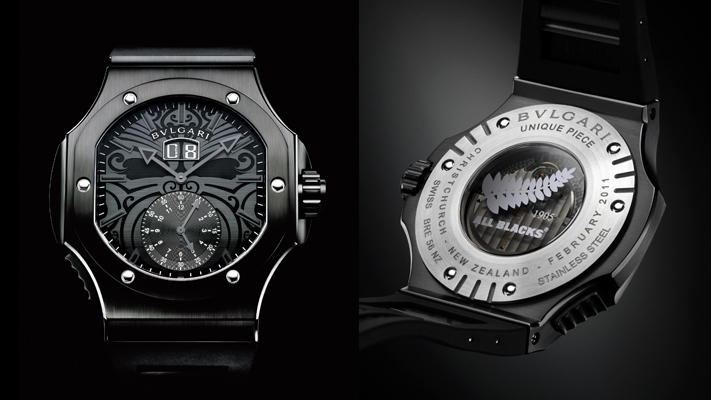 Bulgari Chronosprint Endurer All Blacks 'Christchurch' Unique Watch
Made by Bulgari, owing to an association with New Zealand's All Blacks rugby team, this version of the Chronosprint Endurer All Blacks watch was made for the Christchurch Earthquake Appeal. The design embodies the sporting colour of New Zealand, with the case treated with black DLC (diamond-like carbon). The pattern on the dial is a typical tattoo representing the Maori tribe—the native inhabitants of the land below the Land Down-Under. Featuring the All Blacks emblem on the sapphire crystal caseback, the watch comes with a black rubber strap, with an ardillon buckle, also treated with black DLC.
Written By : Ranvijaysinh Jhala