Every man needs a well-fitted, crisp and comfortable shirt in his arsenal and, believe it or not, there are plenty of details that go into making the perfect shirt. Here are a few tips that will help you pick out the right one every time, whether you're going to crack a business deal or just kicking back with your friends.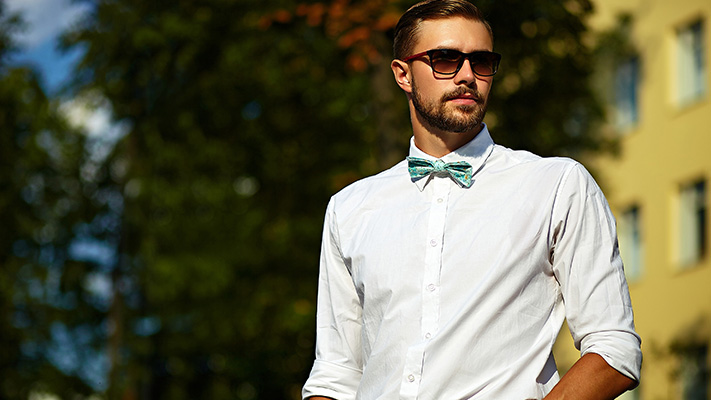 Similar Product
Pay attention to fit

It is difficult to look well put together when you're wearing an ill-fitted shirt, no matter how meticulously you coordinate your clothes and
accessories
. Apart from the size of the shirt, i.e. small, medium, large, etc. it is important to find a fit that best suits your body. A regular-fit shirt with added pleats at the back is comfortable without looking baggy—ideal for medium-built and slightly bulky men. A tapered fit with a narrow body and sleeves is a good pick if you're on the skinny side and want to bulk up your appearance. Be careful if you're opting for the slim fit as it accentuates your body contours and may highlight any imperfections that you might have.
Collar-wise
The number of collar styles available in the market can throw you in a tizzy, but the one to look out for is the medium semi-spread collar, which works with most suits and ties. A collar too small can make you look boyish and one that's too big, too dandy. Also, when trying out the shirt, don't forget to follow this rule: A well-fitted collar will leave room for a finger to comfortably fit between your neck and the collar.
Cuff it out!

A single cuff with round or angled edges is perfect for a casual day look.
Dress shirts
usually have a double cuff, known as the French cuff, which is ideal for formal occasions. Remember that the cuffs of your shirt should cover the hinge bone of your wrists, so that they peep out about half an inch past the sleeves of your jacket. An extra-long or short cuff can really look out of place.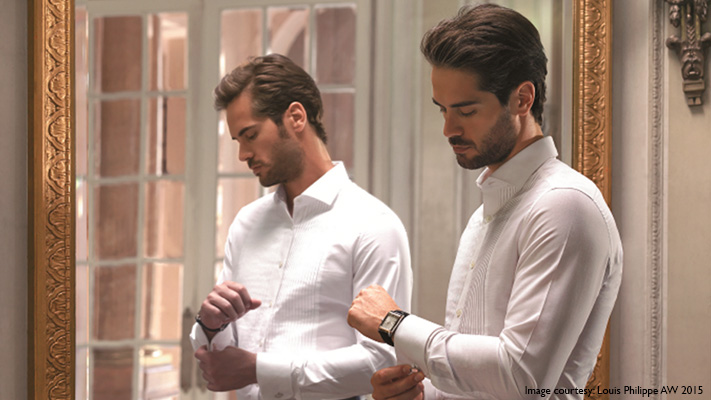 Similar Product
The right fabric

Shirt fabrics, commonly known as shirting, come in a variety of weaves. Cotton is the most common, comfortable and robust choice of fabric, especially for daily-wear and casual shirts.
Linen
is more lightweight and breathable than cotton, making it ideal for the hot Indian summer. However, it has a tendency to crease easily. Dress shirts look best in silk, which looks rich and drapes well. During colder months, shirts in textured weaves like twill, herringbone and houndstooth are good options.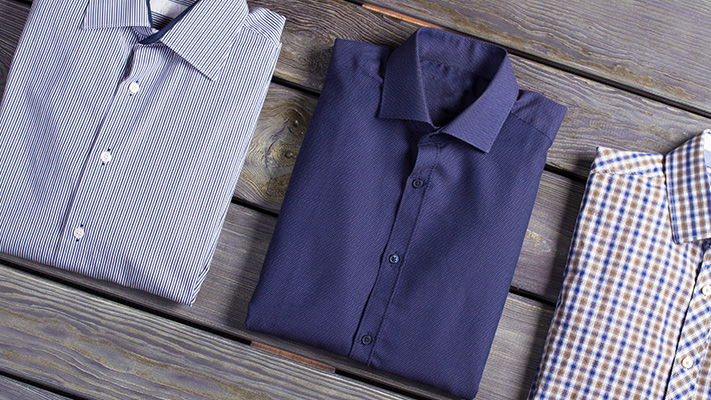 Similar Products
Prints & patterns

Solid shirts are undoubtedly the most versatile, especially classic ones in textured weaves like twill and herringbone. For daily work wear, narrow stripes and checks are your safest bet. Opt for stripes in colours like lime, pink or orange to make your outfit more lively. If you're bitten by the retro bug (we certainly are!), then gingham and plaid shirts are perfect for
channeling the '70s vibe
without looking outrageous. Small nautical patterns, polka dots and florals can really amp up a holiday or casual day look. Oversized and jarring prints should be avoided at all cost.
Written By : The Label Team