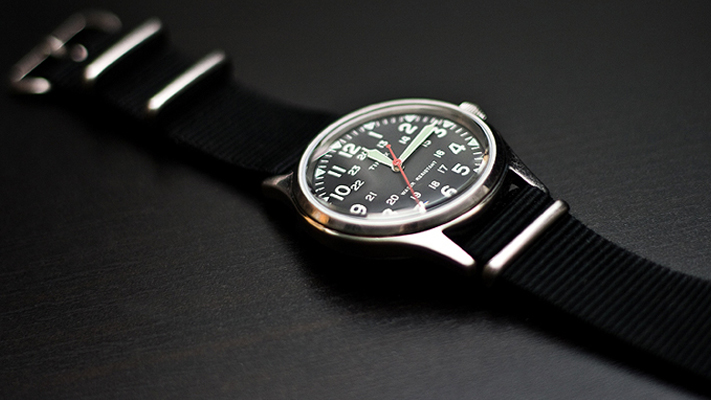 Timex J.Crew—Military Watch
This piece channels an old world military style from the forties thereby making it functional and up-to-the-second chic at the same time. Crafted with a crystal quartz movement and long-lasting battery, this watch is a collector's treasure.
How to rock it:
Wear it with a toggle pea coat or a trench coat.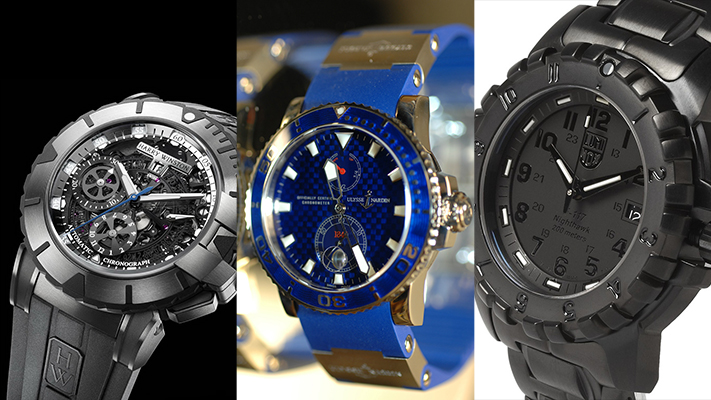 Harry Winston, Ulysse Nardin, Luminox 6400 Series
Harry Winston—Ocean Sport™ Chronograph
While the case is made of Zalium™ and has a diameter 44 mm with rotating bezel, this automatic chronograph comes with a three-dimensional smoked blue sapphire dial. It is further enhanced with blue minute and hour sub-dials, luminescent hands and a blue-hued arrow, putting it to every watch connoisseur's wish list.
How to rock it: A great companion for an evening of glamour and high drama. It will beautifully complement a tux or even a suit.
Ulysse Nardin—Marine Diver Titanium
This beauty comes in a Titanium gold case of 45 mm. It has a self-winding movement, small seconds power reserve indicator and is water-resistant till 200 mm. It has a blue dial with 18-carat gold and titanium bracelet.
How to rock it: Pair it with a midnight blue double-breasted suit or a nautical-striped polo T-shirt and linen jacket or an emerald green evening jacket.
Luminox 6400 Series—Brushed Steel Watch
It's a solid piece that sparkles in stainless steel and shines with numbers and lettering in striking black. It's crafted for the US Air Force's F-117 Nighthawk pilots, it comes with an anti-reflective dial with a glow-in-the-dark mechanism designed to last for 25 years.
How to rock it: If you want to add more gravitas in your casual look, go for this beauty. Wear it to a golf brunch or a blissful day spent on a friend's yacht.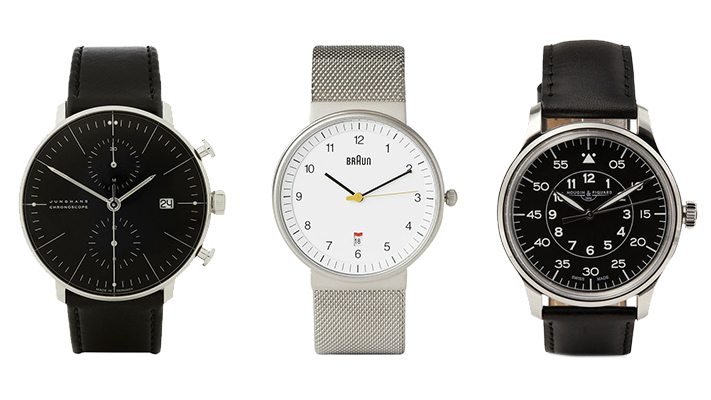 Braun X Dieter Rams BN0032, Junghans X Max Bill, Mougin & Piquard X J.Crew
Braun X Dieter Rams BN0032—Stainless Steel Watch
Clearly meant for those who appreciate a heightened level of design and craftsmanship, this beauty has a monochrome face and a flexible metal mesh strap. This elegant piece of art is based on a design by Dieter Rams.
How to rock it: A great accessory for a sharp formal look, this also goes well with a casual comfy look.
Junghans X Max Bill—Stainless Steel Automatic Chronograph
Handcrafted by haute horologists, this masterpiece marries engineering with the dynamism of design. This icon is a reinvention of a classic version from sixties era, and boasts of a highly technical automatic self-winding movement.
How to rock it: It will beautifully complement a formal Oxford shirt and a well-cut blazer.
Mougin & Piquard X J.Crew—Grande Seconde Stainless Steel Watch
This Swiss masterpiece uses a locally-made quartz crystal movement, and features a smart double dial with both hour and minute markers. Based on an original design from the last century that was developed for pilots, this quality timepiece exudes sheer masculinity.
How to rock it: Wear it with a suit or a formal dress shirt with French cuffs. It can also be worn in a nautical setting.
Written By :