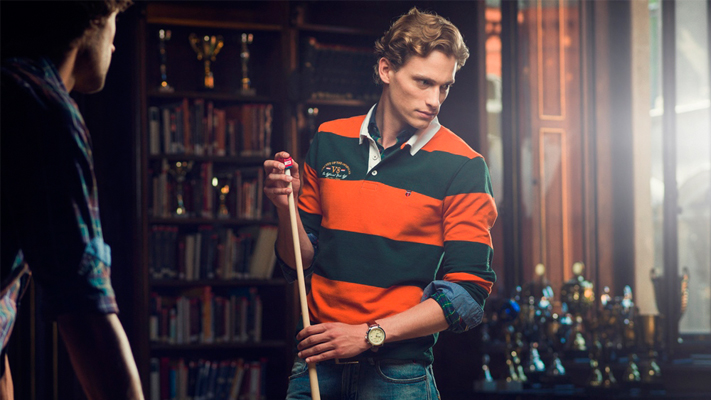 Simple, versatile and elegant, T-shirts are to men what purses are to women. They define the shape of your upper body and accentuate the right parts (read: shoulders, chest and abs), while hiding the not so flattering one (read: flabby lower abs). They are also a metaphor for your fitness quotient. If you have well worked-out shoulders and arms then the T-shirt tends to highlight them even more. However, if you are not a regular at the gym, then the poor T-shirt can't do much to salvage your physique.
Stylings of the T-shirt
They are not just the most comfortable piece of clothing ever made, but also offer myriad styling options. Don't make the mistake of seeing them as too casual. They are definitely casual but can add an interesting element to a boring formal look if paired correctly. A lot of men make the common mistake of tucking their T-shirt into their track pants at the gym, which looks frumpy. Leave them out or pick the ones with the just the right length. You can of course tuck them in if you are pairing them with a pair of denims, and complete the look by throwing in a slim belt with an elegant buckle. Also, a lot of Indian men go for the ones in Lycra fabric which does little to flatter their bulky physiques. During your workout, pick one in pure cotton, which facilitates movement and also keeps you cool as you sweat it all out.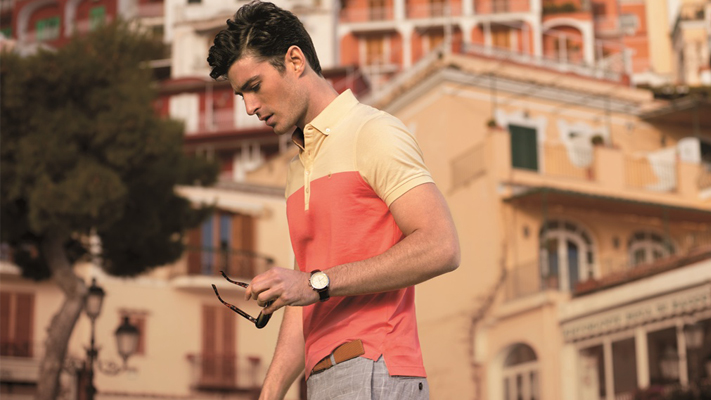 Types of T-shirts
V-neck: These beauties work brilliantly for our weather as the open neck allows you to breathe in. However, avoid the ones with a deep V-neck (you don't want to be competing with your wife's dÃcolletage no matter how well worked-out your chest is). They are a great layering option for a semi-formal or casual chic look. Pair a classic V-neck in white or beige with a well cut blazer to make the ultimate sartorial impact.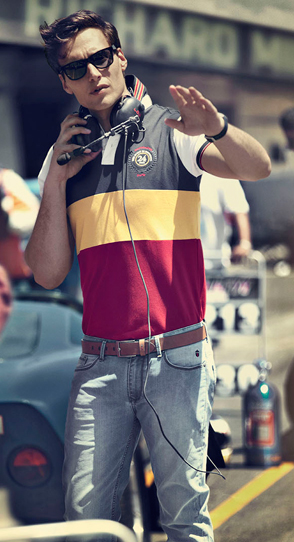 Round neck: You can never go wrong with these. Invest in one which snuggly fit your shoulders. Ensure that the arm seam shouldn't be hanging below your shoulders, which tends to look very sloppy. They are ultra-comfy and can take you from soccer practice to a training session at the gym to a dinner in town. A white classic round neck paired with a pair of faded denims always work beautifully. Layer them with a jacket or a blazer for a semi-formal look.
Polo shirt: From F1 frenzy, to golf matches to a brunch, polo shirts are classic and the ultimate go-to closet piece. If one says, "when in doubt wear a polo shirt…", it won't be an exaggeration. They also can be paired beautifully with a linen blazer or a jacket.
Key T-shirt combinations
Biker chic: Wear a round neck T-shirt with a leather jacket or a denim vest and a pair of textured denims. Complete the look with a pair of rider's boots.
Smart casual: If you are not a tie-and-suit kind of guy and like to radiate an informal vibe even at a formal setting then this look will work best for you: Pair a V-neck with a blazer or a jacket and complete the look with a pair of denims or chinos.
Preppy appeal: Wearing a round neck under a semi-formal shirt or a denim jacket or vest works beautifully. Complete the look with a pair of white denims or in a lighter shade and wear tanned brogues for that great finish.
Formal look: Wear a round neck under a double-breasted suit or a blazer if you want to avoid taking the formal shirt route.
Written By :