Gone are the days when you would plonk down on a chair and your regular
barber
would go about his business wordlessly. Cash would change hands and you would leave the salon after stealing a cursory glance in the mirror. Right now, men are being assertive about what they want and experimenting with haircuts and styles. And whether you are a regular at your stylist's or trying out a new place, you need to maintain certain rules of conduct and decorum.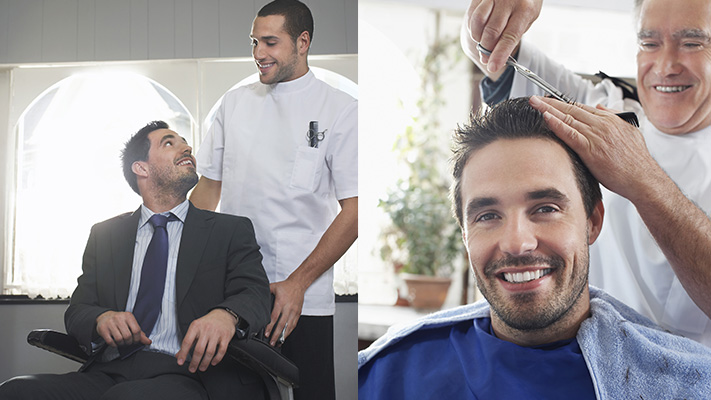 1. Never turn up without an appointment and expect the stylist to accommodate you.
2. Don't stand up an appointment. If you have to cancel, call at least 24-hours in advance to inform the salon. Salons dedicate an hour or so exclusively to you when you book an appointment. A last minute cancellation means they lose out on an hour (and money!) that they could have dedicated to another client.
3. Don't keep them waiting. Coming in more than 10-15 minutes later than your scheduled time will wreak havoc with the salon's schedules.
4. So you want a haircut like that fellow in that television series, those long-ish layers that fall rakishly on your forehead, shorter sides and trimmed to a buzz on the back? Sorry, we are lost. And in all probability, so is your stylist. Like a haircut/style? Bring reference pictures along.
5. Don't get mad at your stylist's suggestions. The haircut/style you've been lusting over might not work with your hair length or texture and more often than not, stylists understand this better than you.
6. On the other hand, it's quite possible to encounter a bullish stylist. In which case, assert yourself, put your foot down, ensure that the stylist gives you exactly what you want and don't throw a tantrum if it does not look good on you the way you thought it would!
7. Convey accurately exactly how much time you are ready to dedicate to styling your hair each day. Some men just can't be bothered with meticulous styling on a daily basis. Insist on a fuss-free, low maintenance haircut/style if you are one of those.
8. There is nothing shameful in asking how much each service is going to set you back. It is sensible to ask and be clear about how much the salon charges for a hair wash, massage, haircuts, spa treatments. Don't assume.
9. The stylist or the helpers are going to ensure you have a pleasant experience while you are at the salon. However, don't let their amiable nature go to your head. Don't be discourteous. Be polite and gracious. And don't be nasty by giving them a hard time unnecessarily.
10. Tip well if you are happy with the services provided. It just ensures you get even better service the next time you are in.
11. While you don't have to go out of your way to become bum-chums with your stylist, don't be surly either. Don't be grumpy just because you can.
12. Talking on your cell phone incessantly is frowned upon everywhere. Also, it is highly inconvenient for your stylist to cut your hair while navigating their way around your cell phone, Bluetooth device, hands free, and so on. Turn your cell phone on silent mode, answer calls only if your life depended on it, and keep it away for the little while that you are there.
Written By : Bushra S Khan