It's rugged, timeless, and masculine and has swag. What's not to love about a man in a leather jacket? Glorified by avid bikers and glamorised by fashion mavens alike, leather jackets are not just statement-making garments – Instead, they are an attitude. A rather cool one we must add! This is one trend that will always be in vogue. No penny-pinching here, get yourself a good quality leather jacket. Maintain it and you can practically pass it down as a legacy. A good quality leather jacket will last you a lifetime. Here's how to wear yours with a piercing stare and élan!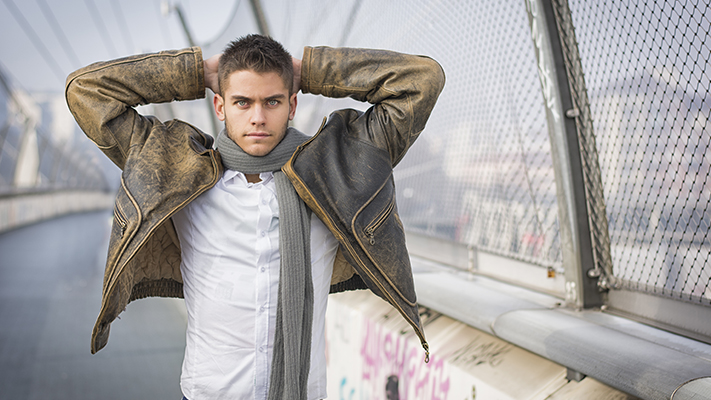 Style
There are so many styles of jackets to choose from. Each style creates a distinct look. Here are four contemporary styles to choose from:
Bomber: The original bomber jackets were made for the crew of heavy bombers in WWII, who flew at altitudes of 25,000 feet and higher. The aircrafts back then were not pressurised or insulated and hence, the bomber jackets used to be heavy and lined with sheepskin to keep the crew warm. The style hasn't changed much since then – Bomber jackets are waist-length with a soft lining made of fleece, flannel or corduroy and cinched waists and sleeves. They could either have side or flap pockets and zip straight up. They are best for men with broad shoulders or a bigger physique and go well with casual wear.
Biker: This style, made iconic by Marlon Brando when he wore it in The Wild One, is easily recognisable by its large, spreading lapels, the angled front zipper, and assortment of metal hardware. The large lapels and flared collar can be fastened with snaps. Want to give off the quintessential bad boy vibe? You're going to need this one on your side, my friend!
Motocross: Also known as the Motoracer or café racer jacket, this jacket is snug and streamlined with or without a small snap collar. The Motocross is the dressier style among leather jackets with its waist-length and shoulder/torso hugging silhouette. It works well on thin men.
Fatigue: Think of the fatigue as the dressed down, less-aggressive version of the bomber jacket. They have a softer collar but strong shoulder reinforcements. The versatile jacket can be dressed up with a shirt and tie or dressed down with a T-shirt and jeans.
Fit:
While shopping for a leather jacket, keep going a size down until you reach a size that you can't get on. When you reach this size, buy the jacket in the next size up. Don't worry if it feels as snug as a wetsuit, because leather moulds into your body shape anyway.
Make sure you get the fit right on the shoulders. Slouchy shoulders will not do.
Look for high-cut armholes. It's the sign of a well-made jacket.
The jacket sleeves should not be too long. Slim sleeves and a jacket that hits at your waist is the way to go.
Avoid elbow patches. And buttons in place of zippers.
Second Skin
Steerhide: Tough and stiff, steerhide made from the skin of adult cows is most commonly used in making jackets these days. It is durable and needs a considerably long break-in period. It is not as rugged as horsehide though and is cheaper.
Horsehide: Not commonly available these days, horsehide is one of the toughest hides you can buy. It is thinner and stiffer than steerhide, and has a pattern of visible surface cracks. It might be a little uncomfortable to wear a horsehide leather jacket initially since it is stiffer than steerhide, so it needs a longer  break-in period. A horsehide leather biker jacket and a Harley Davidson complement each other!
Bison: More supple than steerhide, it has a prominent texture thanks to the unique vein pattern.
Deerskin: It does not hold up well to damage as well as other hides but it is lighter and perfect for warmer weathers. It stretches well with time.
Goatskin: It is lighter, softer and more flexible than steerhide. It ages well. In fact, it looks better with wear and tear. It is noticeable by its pebbly finish.
Calfskin: They are used to make shoes more often than jackets. But they are one of those rare hides that can worn in spring as well as on a cold day to keep warm. It is soft and quite expensive. It does not show blemishes and scratches, is fairly durable and is noticeable by its fine grain.
Lambskin: It's the softest and smoothest leather, is lightweight and comfortable, which explains the high price tag. But it is hardly durable and can easily tear.
Terminology
Full grain: Rough and tough and long-lasting, it is made from the whole hide together with the outer layer of skin.
Top grain: It's what most jackets are made of. Only the outer hide is used but the skin is smoothened for an even surface.
Genuine leather: It's not as durable as full grain and top grain, which is why it is cheaper. Made from the inner hide, it is cheaper than the other but it is made completely from a piece of hide.
Bonded leather: Made from leather scraps that are pressed down and bound together chemically, it is cheap and low-quality.
Written By : Bushra S Khan