Beat the heat and humidity and head to the balmy, cooler climes of Europe—that seems to be the mantra of every jet-setting travel junkie. However, packing the right clothes, accessories and other vanity essentials is crucial because the weather can be erratic—ranging from ice cold to toasty hot. One needs to pack a versatile set of clothes that can be mixed and matched and can take you from fine dining restaurants and museum to sunny beaches.
Opt for versatile pieces
Check the weather of the city you plan to visit and pack accordingly. London's always unpredictable while Paris can throw surprises too. It also depends on the time of the day. Carry a blazer with which you can dress up or down, depending on the place you plan to visit. In a formal restaurant, wear it the traditional way over a button down shirt, and at a café, take it off and roll up the shirt sleeves. A two-button jacket is a great idea. It works well for both semi-formal and casual settings.
Also, pack three to four crew-neck T-shirts and V-necks which work well when layered with a blazer. Neutral shirts, slim-fit, structured trousers and chinos can complement the panoply of options. Besides neutrals, it's also a great idea to carry vibrant hued clothing like a muted floral blazer or a dotted shirt, if you plan to visit scenic locales like Bruges, Tuscany or Florence.
Accessorise it well  
A pair of bendable sunglasses, super-comfy brogues, loafers and oxfords would be great for a perfect finish. Sunglasses shield you in the scorching sun and are also a chic way to protect yourself on a beach. A pair of multi-pocket cargo pants marries style with functionality. A straw or jute fedora or trilby is also a cool way to complete your ensemble. Flip-flops, a watch with world time features, a pair of moccasins and a slim leather belt are your other go-to essentials. And you cannot not carry a pair of swimming trunks.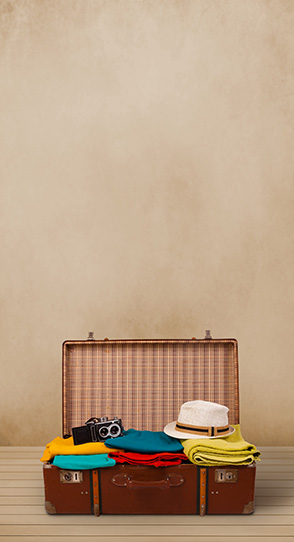 Vanity case essentials
A travel-size grooming kit, sunscreen with at least an SPF 40 and a lip balm should be there.
Pack light
You need to leave enough room in your suitcase for shopping. Do not think of the what-ifs, because Europe is full of affordable shopping options, which will ensure that you won't miss anything you didn't carry.
Editing the suitcase
Pair half- and full-sleeve shirts with neutral pants and denims
Throw in at least two summer jackets (one of them semi-formal)
A pair of aviators or wayfarers
Tanned brogues
A two-tone man clutch
Key holiday looks
DAPPERTASTIC: Combine a jacket with a pair of trousers, a slim belt and dress shoes. Opt for a full-sleeve shirt as you might want to take that jacket off while you dine.
BEACH BOY: On the beach, when not in the water, a pair of light coloured shorts with a pastel shirt or a nautical print T-shirt with wayfarers and flip-flops work beautifully.
RESORT DANDY: Pair neutral linen pants or shorts with a sea blue or white shirt and a hat with moccasins.
Written By : Mr Dandy