With prerequisites like cut, colour and fabric taken care of, most men proceed to check out with their newly purchased suit. However, the most noticeable detail of the jacket i.e. the lapel is oft ignored. Till 1780, coats were worn buttoned to the neck. However, this rather stuffy fashion of wearing coats was not practical for warmer months. And so the top part of the jacket was rolled back and the top buttons discarded to make way for the lapel. Lapels haven't changed much since. There are three major lapels to choose from: peaked, notched and shawl.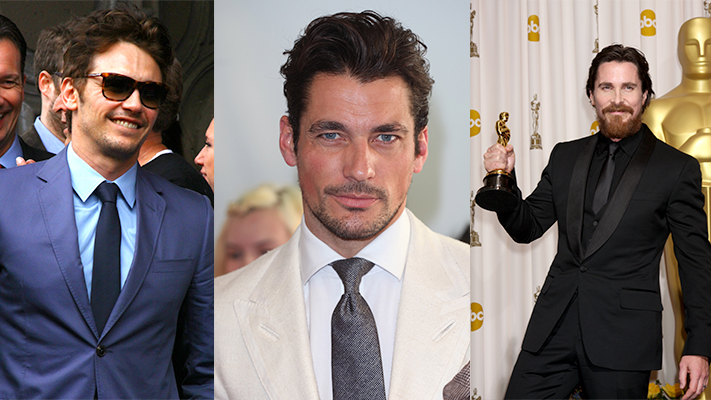 From left to right: Notched lapel, Peaked lapel, Shawl collar
Notched Lapels
The most commonly seen lapel, the notched lapel is very versatile and adaptable. It pairs well with one or two button suits and can be carried off beautifully by any body type. Although narrow and
slim notched lapels
are all the rage right now, we recommend picking up a lapel according to your body type. If you are lean with a narrow chest, consider a skinny notched lapel. Those with a medium built can consider a notched lapel that is three inches at its widest. Men who are broad-chested and broad-shouldered can choose the classic notched lapel that is rolled to 3.25 inches.
Peaked Lapels
Peaked lapels are best described as aggressive, dramatic and eyeball grabbing. A must for double breasted suits, a lot of designers have used the peaked lapels in
single-breasted jackets
as well, showing us that when done right anything can be stylish and elegant. Formal events like weddings,
black tie dinners
and the likes call for a peaked lapel. Noticeable by its pointed cut, peaked lapels give an impression of broad shoulders. The peak that finishes on the collar bone creates an illusion of height in shorter men and/or those who are a few pounds heavier. The peaked lapel elevates the appearance of men with a wider physique.
Shawl Lapels
The shawl collar is a rolled lapel minus a notch or peak. It is rounded with soft edges and usually very thin. Shawl collars suit most body types but are best suited for men who are big in the chest and arm area and do not want to bring more attention to it by wearing a peaked lapel. Avoid it if you have a round face or physique since the rounded edges will only make you seem more stout. Only meant for formal dinner jackets and tuxedo suits, it is often seen on the red carpet and black tie affairs, balls, galas or award ceremonies.
While the width and type of lapel you choose depends on the occasion and your body type, the roll of the lapel is equally important. What is the roll, you ask? The fabric that curls and falls from the break of the collar to the first button of the jacket is the roll. Always opt for a well-tailored roll as opposed to a flat panel stitched onto the front of your jacket; it gives the lapel a distinguished look.
Written By : Bushra S Khan