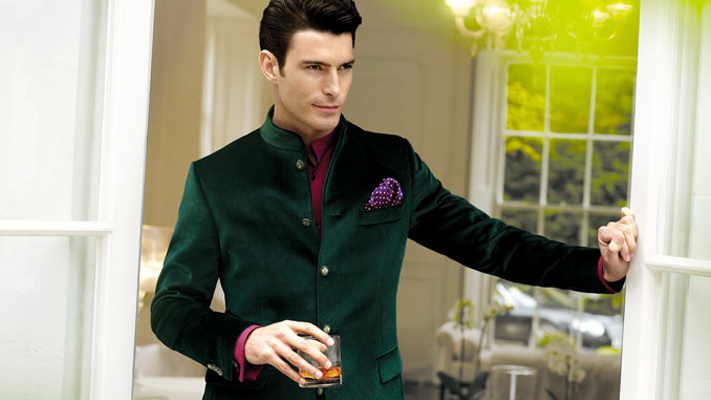 India has been a country of drapes. Our ancestors wore dhotis, one-shoulder draped ensembles and shawls. Even today, the street style in Indian heartlands like Rajasthan and Bengal are steeped in this tradition. Indian designers over the last few decades have given drapes a new, contemporary twist. Tarun Tahiliani, Shantanu and Nikhil, and Rohit Bal are some of the iconic names that instantly come to mind. However, not many men are comfortable wearing a draped ensemble. But just one basic rule can change all that…
The one rule to follow
Let one separate piece in the ensemble be draped, and let the rest be structured or tailored. Shantanu and Nikhil's recent collection of kurtas and churidars have several draped silhouettes. A draped kurta can be worn with a waistcoat and underneath a whiff of it can be seen for dramatic effect. A one-shoulder draped jacket can be a great look too. However, don't go overboard with the draping! Balance the draped or voluminous trousers with a structured
bandhgala
, a Nehru jacket or a bandi. If you are wearing a draped kurta, then offset it with a pair of tailored Jodhpur breeches.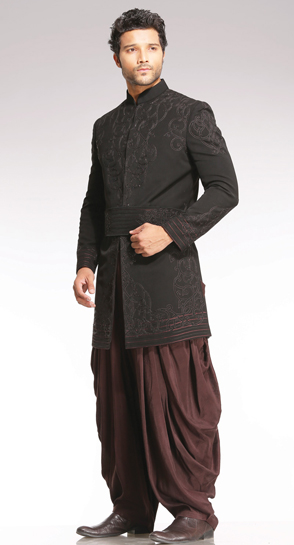 Know your body type 
If you don't hit the gym thrice a week, then don't go anywhere close to the drapes. The look falls well on lean, athletic men as the volume of the drape beautifully offsets a gym-toned body.
Avoid drapes from head to toe
Even if you are confident about pulling off the draped look, try not to overdo it by wearing it from head to toe. If it's a wedding and you want to add an Indian element on your paisley suit, then opt for a pashmina shawl and throw it across your neck. The draped neck will look beautiful on the well-cut suit jacket. Dhoti pants work great with a bandi or a waistcoat.
Perfect for wedding festivities 
A draped kurta is an apt choice for a mehendi ceremony. Those who are willing to experiment, opt for draped kurtas in jersey fabric—which have a well-fitted flow—while the classic dresser should stick to fabrics like georgette and tussar.
For the great finish
Complete the look with a pair of tanned derbies or wine-toned double-buckled monk strap shoes. A pair of Christian Louboutins with a metallic sole will complement the dhoti pants beautifully.
Written By : Mr Dandy