Unlike other sports where a T-shirt, vest or basketball shorts make for a perfectly acceptable outfit, golf is a game that is synonymous with sharp dressing. It goes without saying that while sophistication and confidence are prerequisites, the bottom line is that you must keep your attire understated and simple.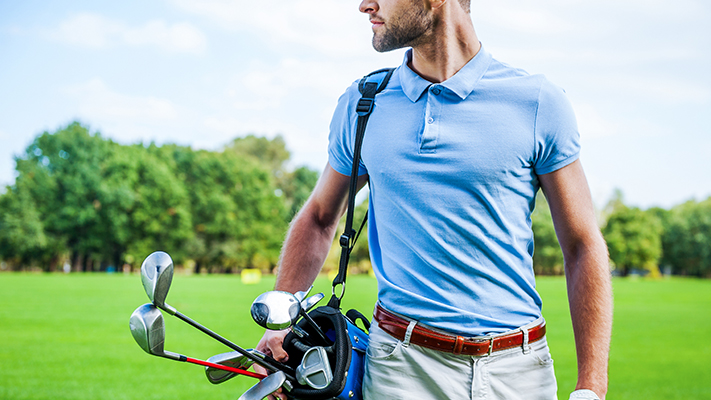 Similar products
Polo shirt
To master the art of dressing impeccably on the golf course, investing in a few premium polo shirts is an absolute must, especially since most courses insist on collared shirts. Stick to solid colours, pastels, simple checks and stripes. The fit of your polo shirt is what defines this look, so opt for one that flatters your form. Loose, baggy shirts (where the sleeves are long enough to cover your elbows) are best avoided.
Buttoned-down shirt
If you're all about old-school dressing, a buttoned-down shirt is also acceptable. The rules are simple: ensure that it doesn't restrict your movement and opt for one with sleeves that end just above your elbow.
Bottoms with a sporty fit
Whether you choose knee-length shorts or trousers, cotton blends make for a good pick. They offer comfort and reasonable flexibility, ensuring that your outfit doesn't interfere with your stance or swing. Pressed
khakis
will always be a classic, but you can opt for beige, sand or greige chinos as well. If the weather is too hot, shorts are acceptable too, as long as they are well tailored.
Add a sweater
Although the weather is hot and stifling now, when there's a noticeable nip in the air, layer your shirt with a V-neck sweater. Opt for one with a fine knit to keep your look sharp.
Subtle accessories
A belt is all you need to finish off your golf look, but remember to pick one that's relatively slim and doesn't have an oversized, flashy logo. If you want to pick a hat, a regular baseball cap does the job just fine, although straw hats and fedoras are within limits too. Also, more of a necessity than a fashion accessory integral to the 
golf
look
, your golf gloves need to be
 comfortable, but bear in mind that you can use them to inject colour in a monochromatic look.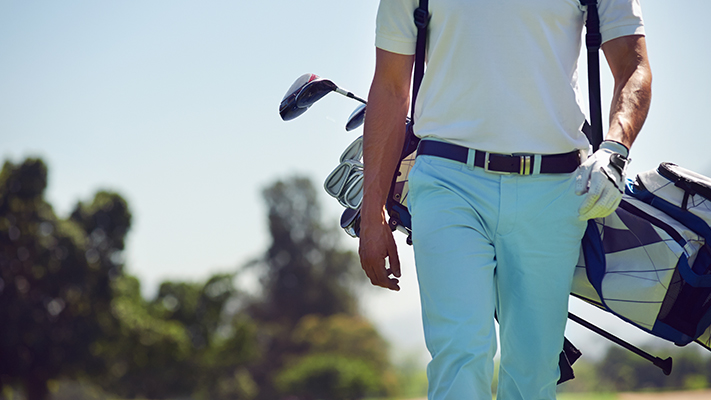 Wearing colour
While neutrals and whites are true to classic golf dressing, you can definitely sport a bit of colour through your ensemble without coming across as offensive. Pastels are a good option, as are rich, jewel-toned hues. Think
beetroot red
, burnt orange, teal, deep violet, bottle green and navy, but steer clear of postbox reds, canary yellows and glaring greens.
Written By : Shirley Mistry