Wearing denim delivers on style and comfort, provided you wear them right. Of course, the fit and colour matter, but how you style them holds equal weight. Here's a look a 3 celebrities who've mastered the art of looking chic in this rugged fabric.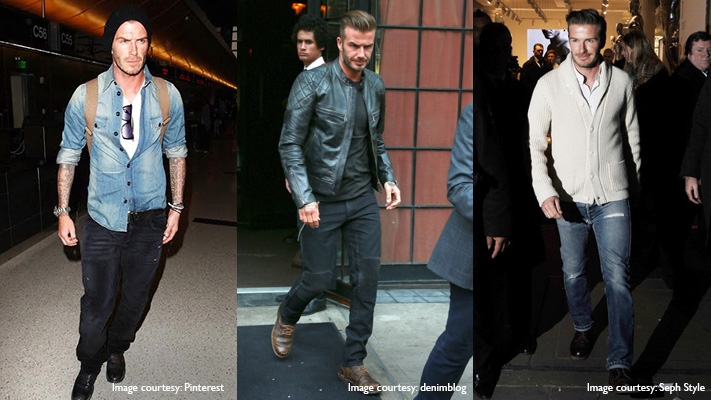 Similar Products
David Beckham
✔  Beckham has mastered wearing jeans, reducing it to a fine art, and these 3 looks are proof of it. Nail the denim-on-denim look by pairing grey or navy jeans with a faded blue denim shirt and a basic white T-shirt to tie together both elements.
✔  Jeans don't always have to be blue and Beckham's smart-casual look is a great example of this. He pulls of an all-black look with panache by pairing a black crew-neck T-shirt with jeans and a black bomber jacket. Slicked-back hair and basic brown lace-ups complete the look perfectly.
✔
 When dressing up denims, you don't have to go all out to look impeccable. A basic white shirt worn under a shawl collar
cardigan
is all you need. Simple and far from fussy, this way of wearing denims is a sure winner.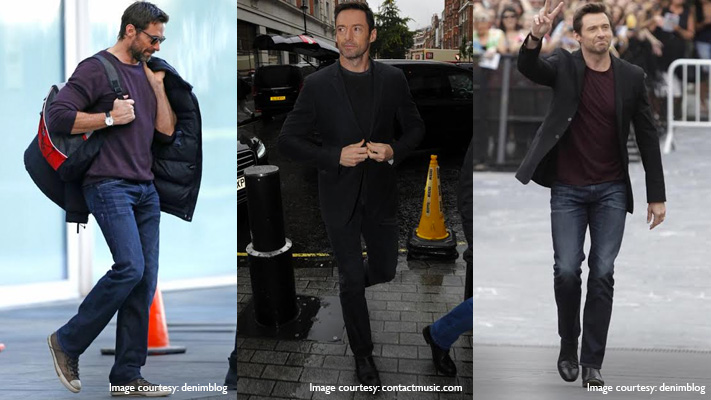 Similar Products
Hugh Jackman
✔  If you want your denim outfits to look sharp even if they fall under the purview of casual or smart-casual fashion, Jackman is the man to take pointers from.
✔
  First things first, stick to tailored denims. A pair that's too baggy can look incredibly sloppy. For a sports-luxe look, wear basic
denim
with a lightweight sweatshirt and a pair of casual sporty lace-ups. You can also layer it with a quilted jacket over the top.
✔  For a formal approach, pair tailored denims with no prominent distressing or severe fading with your favourite T-shirt and a sports coat. Add formal black slip-on shoes and you're good to go. With simple looks like this one, the key is to pick pieces made of superior quality fabric to maintain a formal, luxurious undertone.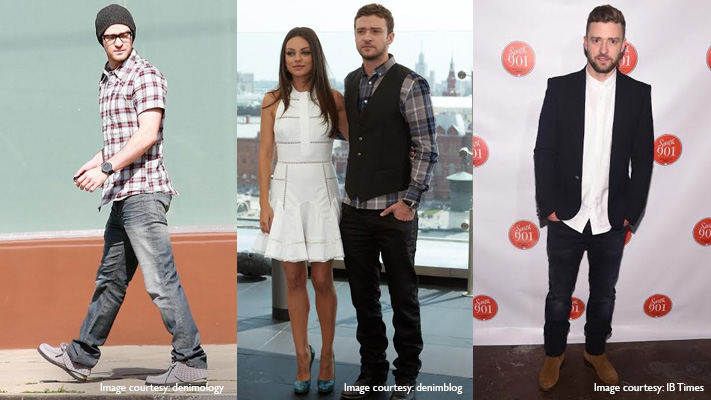 Similar Products
Justin Timberlake
✔  Justin Timberlake's style has evolved vastly over the years and as far as denim goes, he's at the top of his game.
✔  If you want to go the casual route, there's nothing quite like pairing your favourite pair of mid-blue denims with a checked shirt, a hat of your choice and suede casual lace-ups. It looks smart without compromising on the level of comfort you'd want your outfit to deliver over the weekend.
✔  If you want a more polished ensemble, however, skip blue jeans for black ones, swap casual sneakers with semiformal lace-ups and layer your shirt with a well-fitted waistcoat. It shows that you're willing to go the extra mile and you don't always have to wear a suit to show it.
Written By : Shirley Mistry