Black, blues and browns are far too stiff, stuffy and inappropriate for the day. Here is our pick of favourite colours for a day suit. Not only are these hues stylish, but they are also elegant and chic. Go ahead, step out of your comfort zone, break out of your black-blue-brown mode and experiment.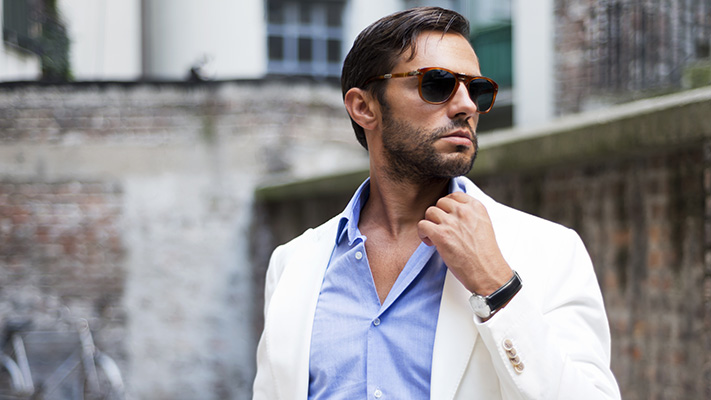 Navy Blue
Navy is a fail-safe classic colour that transitions from fall to winter to spring and summer beautifully. It is so adaptable you can easily switch between work and play with a navy blazer.
Khaki

Khaki is the quintessential summer colour. Pair it with a crisp white shirt and a linen
tie
for a formal event and ditch the shirt and tie in favour of a T-shirt for a casual relaxed vibe.
Grey
Give your charcoal grey suit a break and opt for a suit in light grey, stone and/or ash. This is another versatile colour that can be worn for both, a day or a night event as well as be dressed up or dressed down according to the occasion.
White
Yes, white! Not to be associated with the Italian mafia, nothing is classier than a man in a well-cut white suit. You need oodles of confidence to be able to carry it off! Try a cream-coloured suit in linen if you don't feel too comfortable with a white suit.
Pastels

Very daring and totally on trend, nothing spells elegant and chic like a pastel-coloured
suit
. And no, there's nothing effeminate about wearing one. Pick from baby blues, powder blues, lavenders, peachy-pinks and muted olives for a fashion-forward day suit.
Written By : Bushra S Khan