Shirt cuffs are a very important factor to consider while buying a shirt since they are the most visible part of your shirt besides the collar when you are wearing a jacket. Jacket sleeves should never cover shirt cuffs completely. Showing off about half an inch of cuffs through your jacket sleeves is accepted as elegant and polished. Shirt cuffs can be broadly divided into Barrel Cuffs and Double Cuffs (also known as French Cuffs).
Here are some of the common cuff styles to choose from: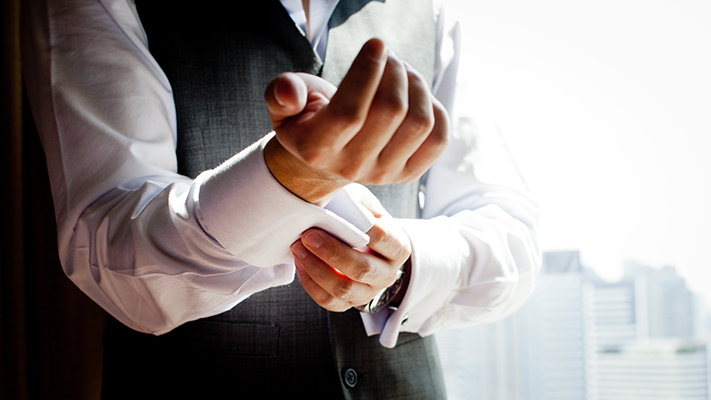 1) Barrel cuff
The most commonly found cuff, the Barrel Cuff is a single cuff that wraps around the arm and is buttoned up. A well designed cuff, it has buttons stitched on one side and buttonholes on the other. It is not as formal as the Double Cuff. The Barrel Cuff can be further divided into One-button and Two-button Barrel Cuffs.
One-button Barrel Cuff: It is slightly shorter than the Two-button Barrel Cuff and is ideal for shorter men and is it creates an illusion of longer arms. See the small placket that leads from your cuff towards your elbow with a single button in the middle? It should always be buttoned up when you are wearing a one-button Barrel Cuff.
Two-button Barrel Cuff: More formal of the two, this cuff is best suited for taller men. Only the upper button (closest to your elbow) is buttoned up. Leaving the lower button undone gives you more room if you are wearing a particularly large watch. Also, do not fasten the button on the placket unless you are rolling up your sleeves.
Straight cut: It is ideal for casual and sporty shirts. Particularly suited for rolling up your sleeves, the straight cut cuffs can be either a One-button or Two-button Barrel Cuff.
Angled or Arrowhead Cuff: Far more stylish than the straight cuff, the angled cuff is stylish without being ostentatious. The One-button cuff creates a sense of proportion in shorter men, while the Two-button provides a tight fit around the wrists.
Round Cuff: Another variation that looks better than the straight cut, the Round Cuff is suitable for elegant shirts and is available in One-button and Two-button options.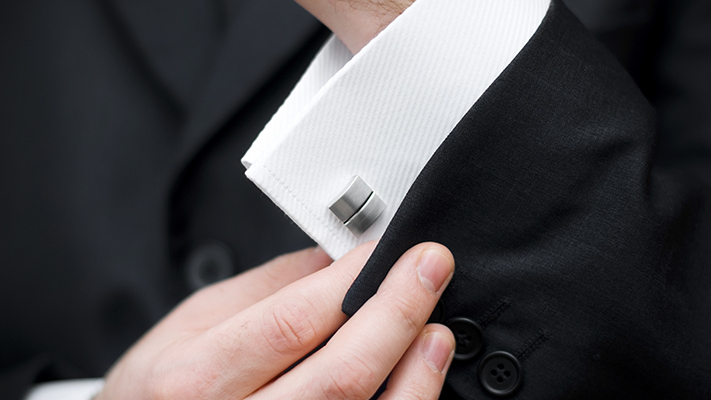 2) Double Cuff or French Cuff
The ultimate in formal wear, the French Cuff epitomises understated elegance. French Cuffs are twice as long as regular cuffs and are supposed to be folded back on themselves. Another striking feature of French Cuffs is that they lack buttons. There are buttonholes and the cuffs are supposed to be fastened with cufflinks. They can be square, round or angled at the end. They have a very distinct sophisticated look and must be paired with jackets.
3) Turnback or The James Bond Cuff
Made popular by Sean Connery in Dr. No, the first James Bond movie, the Turnback brings together the elegance of the French Cuff with the functionality of a Barrel Cuff.
Written By : Bushra S Khan