The sign of a polished man is in the details. Accessories are the little details that prevent you from looking like a mass-produced cardboard cut-out. The bow tie and suspenders are both incredible accessories that make one look classy and elegant. Here are tips on acing the look: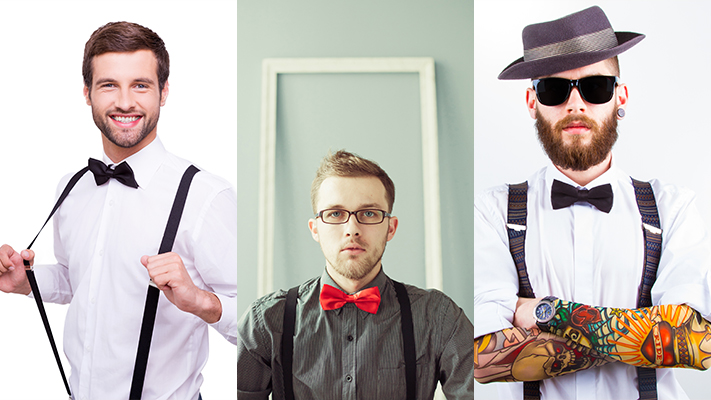 The Suspenders Rules
You wear either suspenders or a belt but never both together. They both have the same function i.e. to keep your pants up. So it doesn't make sense to wear both at the same time.
The size of your suspenders should be proportional to your body. Buy wide or thin or medium width suspenders depending on your physique. 
Bow tie Rules
Like ties and suspenders, the size of your bow tie depends on your physique.
Shiny bows are for formal occasions, while matte bow ties are casual. Black and white are meant for special occasions only. For casual and semi-formal occasions you should experiment with colours, prints, patterns.
Pair up: Wearing bow ties and suspenders
One can never go wrong with a bow tie and suspenders in the same colour. It is a fail-safe way of getting the look right.
Don't like the matchy-matchy look too much? Don't feel confident experimenting either? Try wearing suspenders and bow ties in different shades of the same colour family. It helps create an illusion of depth.
The colour of your shirt is as important as the accessories themselves. It is easier to carry any look when at least one of the elements is neutral. So a shirt in white, beige, brown, gray, ivory, tan, khaki, etc. will go with just about any bow tie and suspenders.
Playing safe is not your thing? Try a bright coloured shirt but make sure the colours of shirt, bow tie and suspenders complement each other. There should be harmony in your colour scheme. 
Polychrome
Once you are comfortable with the look, you can experiment with suspenders and bow ties in different colours. However, remember to have one in a strong and one in muted colour. They need to work as a team together and not clash.
While black and white bow ties are reserved for formal occasions, black suspenders are a fail safe bet for any and every occasion.
The bow tie-suspenders look is a bold look in itself. However, you can take it notches higher (only if you are confident though) by sporting colourful, patterned suspenders along with colourful bow ties.
Written By : Bushra S Khan