Apart from the bruises from vigorous training and on-field confrontation, footballers sport other scars as well—scars that speak volumes about them, that hint towards a symbolic moment in their life, that remind them of their past, that they wear like an armour… Their tattoos.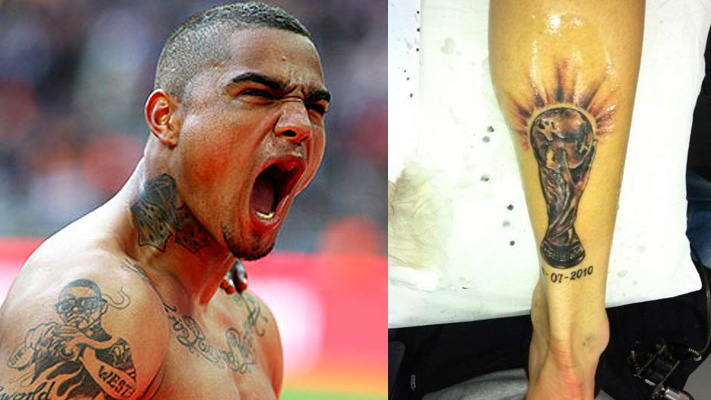 Sergio Ramos
This Spain star is known for his numerous tattoos. He uses his body as a canvas to pay homage to his family, the victims of attacks and missing friends. Quite recently, he celebrated the success of his club and his country by tattooing the Champions League trophy and the World Cup on his calves.
Neymar
Neymar has quite a few tattoos devoted to his family, friends and football. He's known for his typographical tattoos, which spell the words 'ousadia' meaning 'boldness', and 'alegria' meaning 'joy'. These two words are said to signify his playing style. The word 'blessed' is also inked at the top of his back. The Brazilian star also has a matching diamond tattoo with his sister Rafaella.
Raul Meireles
There's more to Meireles than the Mohawk, the beard or the impulsive hand gestures. He's also quite famous for his bold tattoos. The 31-year-old Portuguese mid-fielder was seen flaunting his latest ink at a practice session, gearing up for their second group game against Ghana. The extravagant, full 'leg sleeve' tattoo highlights the faces of three women. It also features a pocket watch, a black rose and Lisbon's famous tram surrounded by musical notes.
Kevin-Prince Boateng
Prince is known for the poignant relevance of his inks. He sports an arm tattoo with the map of Africa with Ghana inscribed in it. On his right arm, he has the name of his wife, Jennifer, and of his hometown, Berlin. He also has the tattoos of two jokers—one smiling and the other crying to symbolise the saying 'Laugh now and cry later'.
Mario Balotelli
'I am the punishment of God, if you had not committed great sins, God would not have sent a punishment like me upon you.' These aren't just words of the Great Khan, Genghis Khan; it's also the most iconic tattoo a footballer could ever ink. After the Italian striker scored his first goal at the 2012 Premier League season, he decided to celebrate in the most aberrant way possible.
Each of these footballers have a story behind each of their tattoos. But they aren't the only inked football stars. Daniele De Rossi, Tim Howard, Daniel Alves and Nigel de Jong are few other players known for their awesome tattoos.
Written By : M Jansen