With the Louis Philippe Cup 2017 fast approaching,  it's only fair that we shift our sights to dressing for a game of golf. While other
sports
such as football and basketball allow you to wear athletic wear, golf is probably the only sport that requires a degree of formal dressing. For your next round of golf with the boys, remember that your ensemble needs to be understated yet sophisticated and of course, comfortable.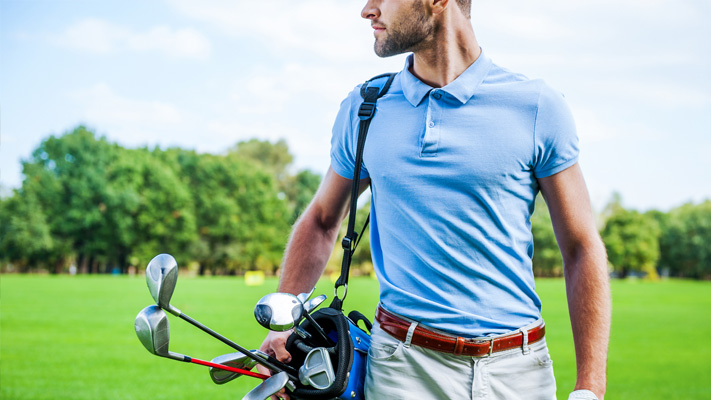 We break down the look for you and throw in our top tips for good measure. Take a look!
Polo T-shirts
To master the art of dressing impeccably on the golf course, investing in a few premium polo T-shirts is an absolute must, especially since most courses insist on collared shirts. Stick to solid colours, pastels, simple checks and stripes. The fit of your T-shirt is what defines this look, so opt for one that flatters your form. Loose or baggy styles (where the sleeves are long enough to cover your elbows) are best avoided. Pick a material that will help you stay comfortable, considering the fact that a game of golf can take up the better part of an afternoon. Cotton or cotton blends that help wick away moisture is what you should be looking for.
Similiar products
LP Louis Philippe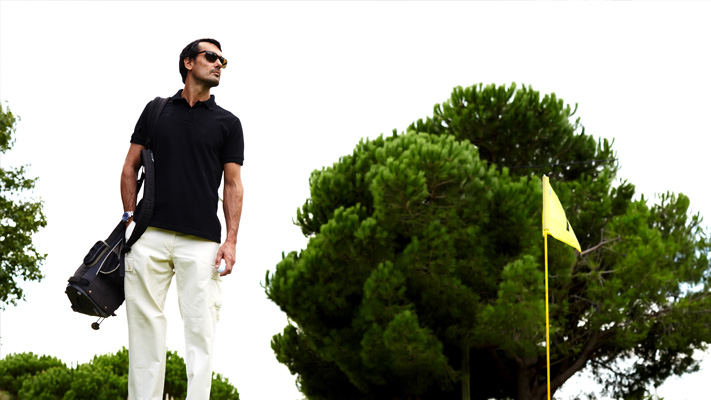 Buttoned-down shirts
If you're all about old-school dressing, a buttoned-down shirt is also acceptable. The rules are simple — ensure that it doesn't restrict your movement and opt for one with sleeves that end just above your elbow. Again, cotton and linen are perfect for all-day wear. However, if you want your shirt to make you look suave on the golf course and off it, pick one that's crease-resistant.
Similiar products
LP Louis Philippe
Bottoms with a sporty fit
Whether you choose knee-length shorts or trousers, cotton blends make for a good pick. They offer comfort and  flexibility, ensuring that your clothes don't restrict your stance or swing. Flat-front
khakis
 will always be a classic, but you can opt for beige, sand or greige chinos as well. If the weather is too hot, shorts are acceptable too, as long as they are well tailored and fit you perfectly without being too baggy!
Similiar products
LP Louis Philippe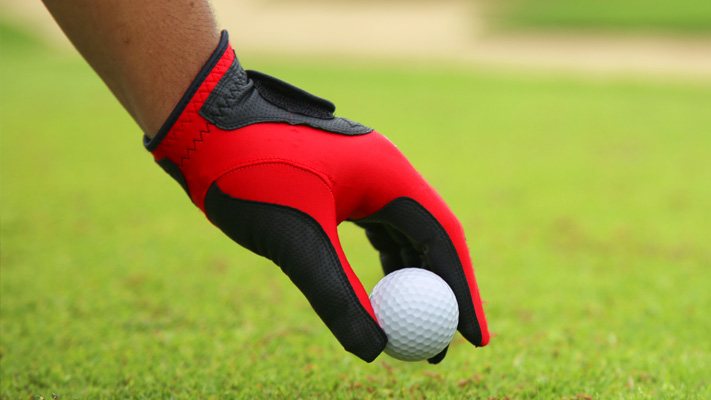 Subtle accessories
A belt is all you need to finish off your golf look, but remember to pick one that's relatively slim with a simple, classic buckle. If you want to pick a hat, a regular baseball cap does the job just fine. Don't forget the gloves. They are more of a necessity than a fashion accessory integral to the 
golf
 look. Sporting a coloured pair is a great way to add a dash of colour to a monochromatic look.
Add a sweater
If there's a noticeable nip in the air, layer your shirt with a V-neck sweater or a sporty jacket to keep it contemporary. If you do opt for a sweater, pick one that's light and in a slim-fit to keep your look sharp.
Similiar products
 Louis Philippe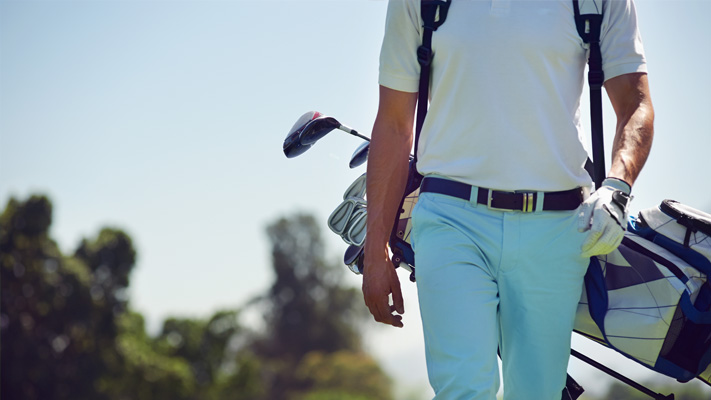 Wearing colour
While whites and neutrals are classic golf colours, you can definitely sport a few bright pieces without creating a look that's over-the-top. Pastels are a good option but you can also pick colours such as teal, indigo, peach and moss green.
We hope these pointers help you bring your A-game, both on and off the green.