Counted among the most elegant of men's accessories, the bow tie has been taking the discerning gentleman's style game up several notches for decades. History and literature are in fact replete with several notable men — from Winston Churchill to James Bond, who are known to be ardent fans of the bow tie. However, sporting one is not everyone's cup of tea as, when it comes to this accessory, there is a fine line between looking stylish and looking out-of-sorts. If you wish to add the bow tie to your style vocabulary this year, these guidelines are bound to come in handy.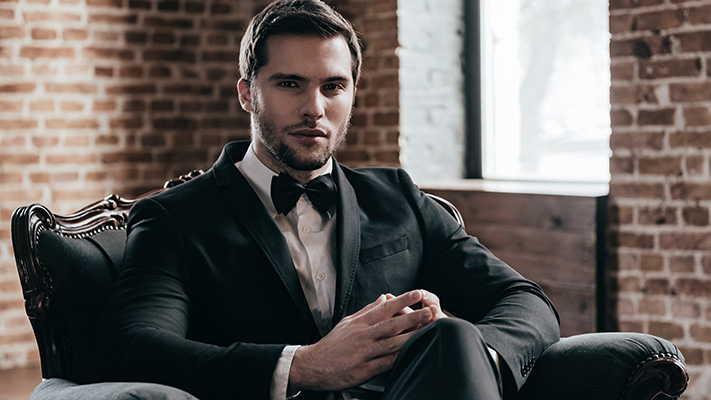 Similar Products
Keep it classy
Nothing defines sophistication the way a bow tie does. When finding the right outfit to pair with this accessory, look no further than tailored suits and well-fitted shirts. Anything loose and ill-fitting and you bow tie is also bound to fall flat. If you're looking to spruce up a casual look with the accessory, pair it with a linen shirt and tailored shorts for a cool smart-casual summer outfit.
Size matters
Always watch out for the size of your bow tie. Make sure the width of the tie does not exceed the width of your collar. Always sport a bow tie with a standard pointed collar, a winged collar or a semi-wide collar. Avoid wearing a one with a narrow collar. A slim bow tie is perfect for a standard collar, while a wider style pairs well with a winged or semi-wide collar.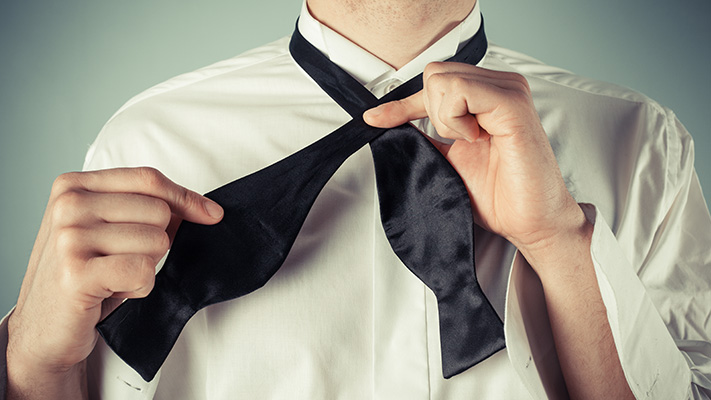 Master the knot

If you're going to wear a bow tie, it is important to learn how to knot it correctly. There are a number of different types of bow ties and the best way to make the most of this accessory is by picking the right style based on the occasion and the outfit you plan to wear. Yes, the easy way out is to sport pre-tied one, but what's the fun in that? To get the knot right, read our article on
how to tie a bow tie
.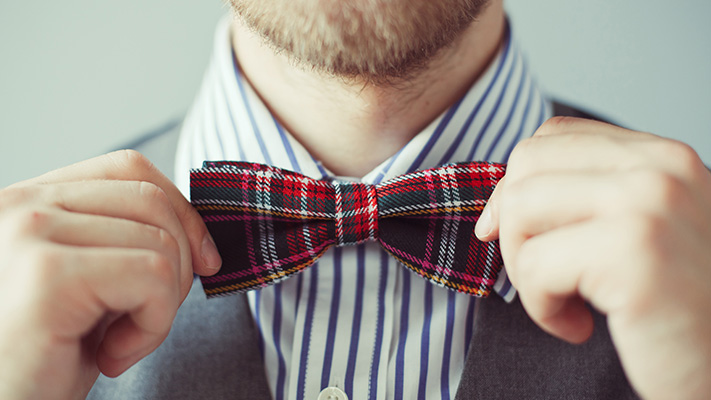 Pay attention to print and fabric

Keeping in mind the sweltering heat, we recommend a light cotton bow tie in a summery hue like
mint green
, lilac and burnt orange to go with summer suits in lighter shades like grey, beige and greige. If you find these colours too adventurous, maroon, bright red, dark green and blue work just as well. For a smart-casual outfit, feel free to experiment with subtle prints like checks, polka dots, horizontal stripes and nautical prints or opt for a knitted one to add more visual interest. If you plan of wearing a bow tie to a formal black-tie event, your best bets are styles in silk, satin and velvet.
Let the bow do the talking!

A bow tie is meant to be the talking point of your ensemble so make sure you don't divert attention from it by making the rest of your outfit too busy. If you're wearing a printed one, make sure the rest of your outfit is in solid, subtle colours. As far as accessories go, look no further than a
watch
and a lapel pin to add more depth and sophistication.