Nothing can be worse than a pair of pleated and ill-fitting casual pants. The monstrosities not only add many more years to you but also make you the ultimate frumpy dumpy! Besides the ubiquitous denims, there is a wide array of casual pants with which you can make a transition from your workplace to a casual setting; say, going from a client presentation to a pub screening a FIFA World Cup match!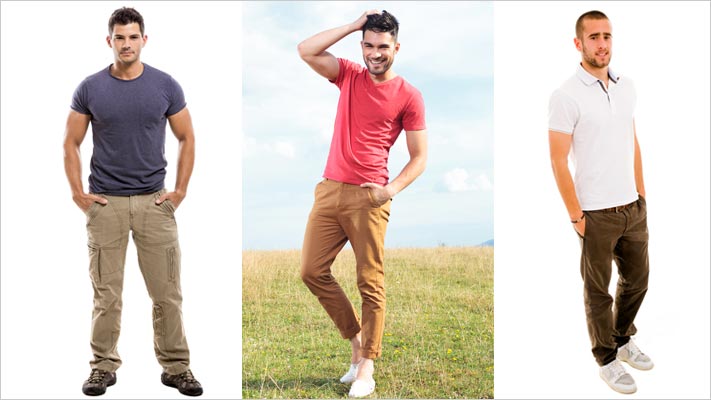 See your body type
It's important to choose the right pair of pants for your body type. If your body falls in the inverted triangle bracket then opt for straight or more relaxed slim cuts (rather than too slim/skinny) for casual trousers. They will beautifully offset your proportions and broad shoulders. However, do not go for skinny leg cuts as they will make the top half of your body appear even wider. In case your body type is that of a triangle, then opt for straight leg trousers and chinos and avoid wearing skinny or heavily tapered ones as they will widen the central part of the body.
If your body shape is oval then make sure that the trouser legs and sleeves are the correct length as gathering will cut off the limbs and won't help in adding shape or definition. The golden rule is: a slim body complements a narrow fit, while a larger torso longs for a pair of wide-legged pants.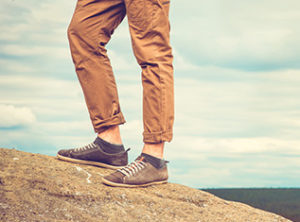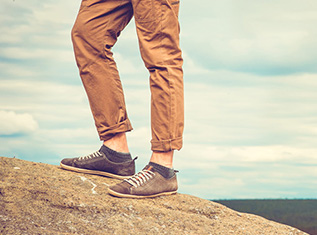 Dress up in khakis
Buy a pair that's flat-front for a snug, athletic look. A crisp crease makes all the difference. They aren't stiff like denims and also work well in semi-formal settings. Though the military brown is still the most common shade, these classics also come in an array of shades such as darker browns, greys, and greens. Cotton twill and linen should be your go-to fabrics for khakis. Opt for those that are multi-pocketed or the ones treated to be wrinkle-free. Your choice of footwear is crucial here. If you want to look formal then pair khakis with a pair of tan brogues or if you want them to look relaxed then go for loafers.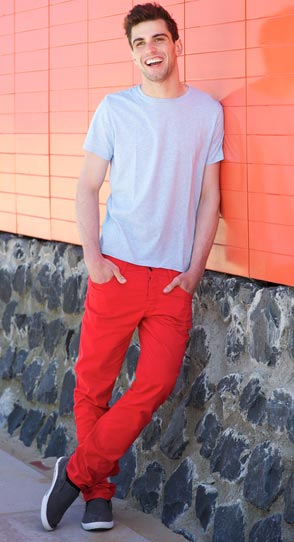 Rock the chinos
These beauties aren't always tapered, but they usually come with a few pockets and flat fronts, making them utilitarian and chic at the same time. Unlike the neutral tone of khakis, chinos can be dyed in almost any colour. Opt for daring shades like cobalt blue and forest green to make a striking sartorial impact. They can take you from a client meeting to a business dinner effortlessly. Dress them up with a navy blazer or dress them down with a v-neck and a pair of boat shoes.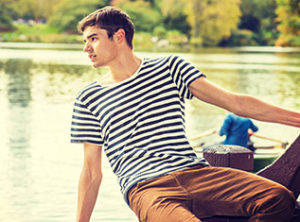 Warm up to the corduroy pants
Corduroy is essentially velvet with channels between ridges. The best part about them is that you can rock them in both, summer and winter. Corduroy can be a great alternative to denims and chinos. Also, corduroy comes in vibrant shades like moss green, blue and works well for semi-formal settings.
Upgrade with cargo pants
Cargo pants as a fashion statement have been in vogue since the early 1990s. They can be just as commonly found in cotton, fibre blends, corduroy, and denim. A great pick for an outdoorsy day—trek or a resort—cargo pants can be paired with a polo shirt, a baseball cap and a pair of trainers. You could complete the look with a spiffy backpack.
Give drawstring pants a new twist
With sporty chic and 'pyjama' dressing suddenly gaining focus internationally, one can't overlook these. Gym-wear has suddenly become club wear! Invest in slim-fit drawstring sweatpants and play up with the look with a bomber jacket for a night of high-octane partying. Complete the look with a pair of high-top kicks and redefine sporty chic.